St Andrew's Church
Next event
Wednesday 17th February 2021
6.30pm: Ash Wednesday Zoom Service
Lent starts this month! We will mark that with a Zoom service on Ash Wednesday at 6:30pm. Please do try and join in with this as we mark the beginning of Lent together.
During Lent there will be a Zoom study group on Wednesdays at 2:30. More information will be on the Pew Sheet in February, together with reminders!

---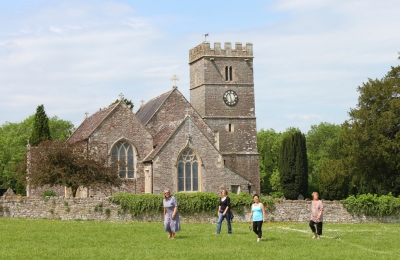 St Andrew's Church is a beautiful, historic building that has served the village over many generations.
It is open in daylight hours for you to visit, and everyone is welcome.
For details of weekly services and to download pew sheets, please visit www.saintandrewscromhall.org.uk or www.facebook.com/CromhallChurch



5Alive is the Benefice newsletter for CRoFTT: Cromhall, Falfield, Tortworth, Tytherington, and Rockhampton.
Click here to download the January 2021 edition.

There will be no 5-Alive magazine in February and possibly not in March either. The next publication will depend on 'lockdown' regulations.


Cromhall 100 Club
A message from Mandy Bird:
It's really important that we maintain the St Andrew's Parish Church building for Sunday services, christenings, weddings and funerals.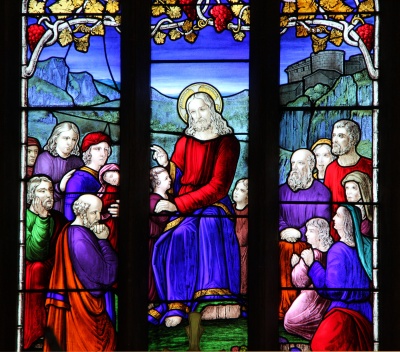 St. Andrew's Church window, Cromhall.
We must make sure it's a safe, watertight and warm sanctuary for all those who need to use it - not least the children of St Andrew's Primary School who are frequently in the church throughout the academic year.
The 100 Club is a vital income for the on going maintenance of St Andrew's and a very simple way in which you can support our beautiful, historic building, which continues to be a significant village landmark even after centuries of serving our community.
It's really very simple.
Just fill in the application form and hand it into the Cromhall Community Shop with £10 for every number you'd like to purchase. Or, post it through my letterbox at Ashleigh, Cowship Lane, Cromhall.
You will then be entered into six draws: Christmas Eve and Easter, which have one prize of £50 each, and February, May, August and November draws, which each have prizes of £30, £20 and £10. The draws are made at the Community Shop at 11am on the last Friday of those months.
In a nutshell, you will have 14 chances to win some money which is very reasonable for only £10 investment! Most important of all, you will be directly helping to maintain St Andrew's Church and ensuring it will still be serving future generations of villagers. We do have Standing Order forms if that's how you would prefer to contribute in the future and they will also be available in the Village Shop.
To all current 100 club members, thanks so much for your contributions this year and please do remember to renew before the first £50 draw on Christmas Eve.
We look forward to welcoming lots more new members of the 100 club and "Good Luck!" to you all. Your support is very much appreciated.
Mandy Bird (294186) or


Cromhall 100 Club Winners
DECEMBER 2019 NO 54 MRS SUE BRYANT £50
FEBRUARY 2020 NO. 61 MRS MURIEL EALEY £30, NO.25 MRS CATE BRYANT £20, NO.48 MRS JUDITH DREW £10
EASTER 2020 NO.57 MRS LINDA YOUNGS £50
MAY 2020 NO.2 MR KEN PARKER £30, NO.71 KAY REA £20, NO.53 MRS LINDA CLOTHIER £10
AUGUST 2020: No.52 CHARLIE YOUNGS £30, No.74 PHIL SCHULKINS £20, No.75 GRACE GAMBLE £10
NOVEMBER 2020 NO.56 DEBBIE ROSE £30, NO. 95 MRS MURIEL HENSON £20, NO. 37 MRS JACKIE CARPENTER £10


December 2018: £50 MR DICK BRYANT (No.90)
February 2019: £30 Ms FRANCES PIPER (No.60), £20 Ms FE GRAY (No.66), £10 MR STEVE ASTON (No.33)
Easter 2019: £50 MRS PAT MILLS (No.49)
May 2019: £30 MRS MAY BROWN (No.46), £20 MRS SUE CROSTHWAITE (No.62), £10 MRS ALISON GAMBLE (No.58)
August 2019: £30 BERNICE POTTER (No.86), £20 JENNIFER OLDERSHAW £20 (No.96), £10 ANN GREENHALGH (No.40)
November 2019: £30 MRS ROSIE WILLSHAW (No.43), £20 DEBBIE ROSE (No.8), £10 MRS LINDA RICHARDS (No.44)
Congratulations to all the winners and thank you very much for supporting St Andrew's Church and churchyard.


Churchyard Policy
Early in 2017, St Andrew's PCC published a revised Churchyard Policy, covering burials, interment of ashes, and maintenance of graves and headstones.
Please click here to read the policy.


CRoFTT Benefice
St Andrew's is part of the CRoFTT Benefice, covering Cromhall, Rockhampton, Falfield, Tortworth and Tytherington.
The Benefice website is: www.croftt.org.uk.
For all Benefice business please ring 01454 260096 and leave a message, or email . The Office is usually open 10am-1pm on Fridays when messages and emails are dealt with.


Regular Events
Embrace Usually held on the second Wednesday of each month. An Invitation to the Christian Spiritual Life where you are invited to create the space where the life of God in us can be nurtured and brought to fruition; a time for you to embrace some of the basic disciplines of the Christian spiritual life.
Food for Thought On the second Thursday of each month an average of 12-15 people come together for home-made soup and bread. The venue moves around the parishes of the benefice; in the Summer we meet in the churches but as the weather gets less warm, we try to meet in people's homes if possible. (Offers of a venue are always welcome!) Please ring 01454 417445 before 10am if you are coming.
Benefice Ramblers Meet outside Post Office Cottage to share lifts. Please contact Ann on 01454 294200 or Eva on 01454 299251 for details.
Sparklers Held at St George's, Falfield on the first Friday of each month. Cost £1 to cover refreshments. An opportunity for toddlers and preschoolers to play, sing and informally hear stories about Jesus with their parents, grandparents or carers.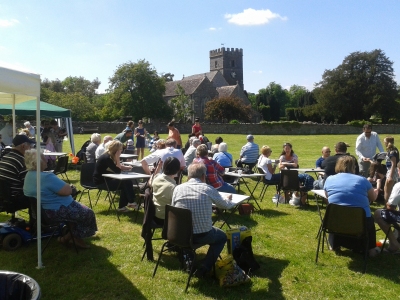 Bell-ringing vacancies
Would you be sad if Cromhall Church Bells no longer rang out on Sunday mornings and for weddings?
Unless new people are willing to learn to ring, this may well happen.
Cromhall ringers practice on Monday evenings between 7.30 and 9pm. If you are interested in learning to ring and would be available on Sunday mornings to ring for most church services, either turn up on a Monday evening or call Peggy Collett on 01454 294545 for more details.
Anyone over the age of 11 until you can no longer climb stairs is able to learn. Rising 11 year olds are not covered by insurance but are able to learn if accompanied by a parent or guardian.


Family History
We have had a number of enquiries from folk tracing their family history. We do not hold any records (apart from current ones) in the Benefice.
They are all held at the Gloucester Records Office, who if they are contacted beforehand will assist.
Email:
Website: www.gloucestershire.gov.uk/archives


Julian Trust
St Andrew's Church has a box in the church porch for donations to be taken to the Julian Trust, which urgently needs tinned goods (especially meat and sausages), toiletries and toilet rolls and warm men's clothing including socks and gloves.
Several of the church members do a duty there either on an evening to prepare a meal or to supervise the guests overnight and prepare breakfast.
Anyone interested in joining the volunteers rota would be very welcome. Contact Peggy Collett on 294545.


The Reverend William Frank Burlton
Born in 1912, his twin brother George died at birth, Bill had polio as a child and his father was killed in the First World War, leaving his mother as a young widow to bring up Bill and his younger brother, Harold, alone. He recovered well from the polio but it left him with a permanent limp. These early struggles gave him great strength of mind and enormous sympathy with other people.
He worked first as a printer and then studied for the priesthood with the evacuated Kings College, London, during the Second World War, whilst also being a member of the Fire Service in Bristol and Bath. After the war he became a curate at Northleach, then priest-in-charge at Hewelsfield and curate at St Briavels before moving to Cromhall where he spent the next thirty years as the parish priest and assistant chaplain of Leyhill Prison. In addition he also became priest-incharge of Tortworth and Rural Dean.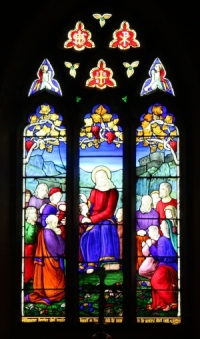 On retirement he moved with his wife, Marjorie, to Marazion in Cornwall to be near their son Christopher and his family.
While there he took services in almost every church and chapel in the area until he was physically unable to continue.
He sat on committees, on local councils, he was a Scout Commisssioner, a governor of several schools, a church bellringer and chaplain to the local ringers guild and always, always, always, in whatever capacity, he was at the service of his fellow human beings. It did not matter to Bill whether the person he was dealing with was a roadmender, an obstreperous toddler, a juvenile delinquent, a housewife, a murderer, a duchess, a farmer, a good Christian or the village drunk – if they were a person he loved them even if he deplored what they had done, but he did not judge, simply tried to love them enough to lead them into the right path.
He was never narrow in his Christianity, taking services from behind the bar of the village pub when they wanted to celebrate harvest there and from a roundabout when a Steam Fair was held in the Rectory field. When pop music began attracting the attention of the young he did not condemn but invited them into church to play and sing during the service.
Indeed it was he who hosted the service at Tortworth at which Roy Hudd and the George Mitchell Minstrels performed.
His sermons were legendary for the singularity of both content and delivery; while the meaty Christian message was always there it was served up in a palatable and enjoyable manner. Who else, wishing to impress the virtues of perseverance on a congregation of Boy Scouts in Gloucester cathedral, would have taken "Incey Wincey Spider" as the text of the sermon?
In all this he was ably seconded by Marjorie, his wife for 63 years, who brought to their partnership the necessary practical qualities while sharing his faith and his service to anyone who needed it.
He is survived by Marjorie, his children Mary and Christopher, daughter-in-law Gill and grandchildren Naomi, Robert and Thomas.






Forthcoming events
Wednesday 17th February 2021
Friday 26th February 2021