Cromhall and Falfield Mothers' Union
This page is no longer being updated: Cromhall and Falfield Mothers' Union closed at the end of 2016 due to small numbers, with most members choosing to attend Chipping Sodbury MU.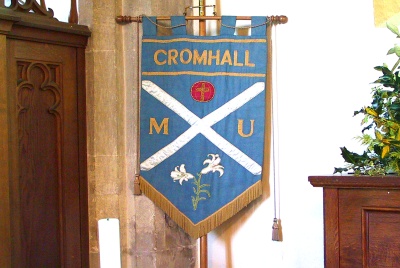 The Mothers' Union exists to share Christ's love for the world by encouraging, strengthening and supporting marriage and family life.
In 1952, the Rector's wife in Cromhall, Mrs Marjorie Burlton encouraged the women of the village to form a branch of the Mothers' Union.
Their first meeting was at the (Old) Rectory on February 7th, the day after King George 6th died, and 12 women were present.
Meetings in the 1950s began with a hymn and a prayer - milk cost 6p and biscuits 10p.
Parties began in 1954, with games such as tearing an elephant from a sheet of newspaper. Entries at the first party were of such a high standard that three prizes were awarded.
A fund was started in 1957 to pay for a banner, which was completed in 1959. The banner is cream and blue, and features Madonna lilies.
For more information about Mother's Union, visit the main website: www.themothersunion.org.