Cromhall Flower Show
The village of Cromhall holds a Flower Show and Village Fayre on the first Saturday of September at 2pm on the St Andrew's School field.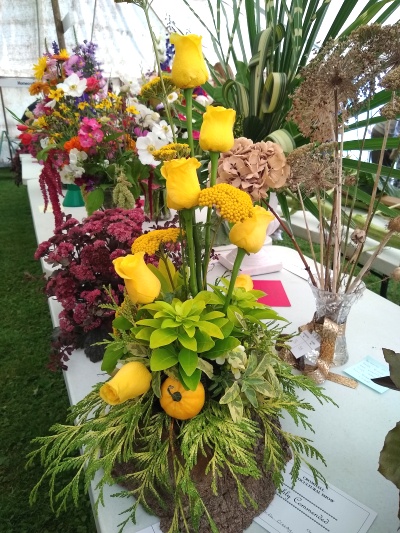 Cromhall Flower Show & Village Fayre 2019
The 73nd Cromhall Flower Show & Village Fayre took place on Saturday 7th of September 2019 and was enjoyed by over 600 people.
The large crowds were entertained throughout the afternoon by Katharine Lady Berkeley's Jazz Band, BollyRed Dance Company with a display of Bollywood India Folk Dancing, a Fun Dog Show, Mr Browns Pig Woodland Puppet Show and Ferret Racing.
A range of competitions and activities for all ages provided plenty of fun for all including Tug of War, Tombola, Archery, Coconut Shy, a Bouncy Castle, Skittles and a Football Shot Speed Challenge.
There was also a display of vintage cars & tractors.
The Show Tent displayed over 500 exhibits ranging from home cooking & crafts through to fruit and veg.
The Show's Chairman Peter Banks commented, 'We were delighted with the attendance and the number of entries this year and it was pleasing to see an improvement in the vegetable and flower categories due to the better weather.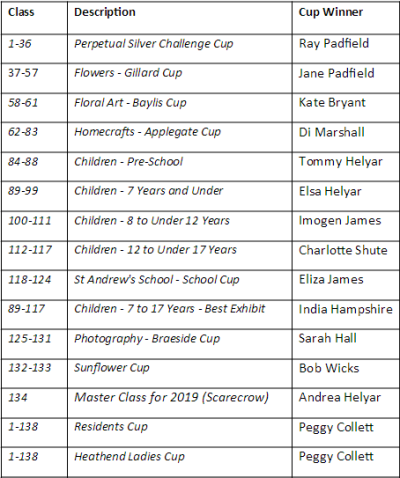 St Andrew's School PTFA ran the busy tea tent and served up homemade cakes, teas and coffees and the Woodend Scout Group provided the BBQ.
The large Beer Tent had a busy afternoon as people enjoyed the show and the favourable weather.
Local stalls offered everything from jewellery to local honey.
Peter added: 'After the Committee's hard work and organisation this year, we are all delighted with the tremendous success of the Show.'
Peter Banks, Chairman, Cromhall Flower Show & Village Fayre (CHS)


About the Show
Flower Show and Village Fayre is an open show, so entries are always welcome from neighbouring villages and further afield.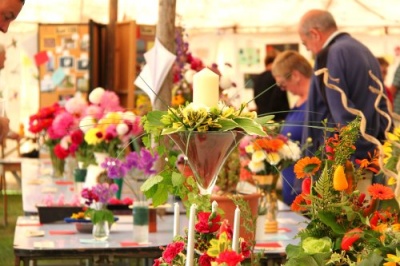 There's a category for everyone, including home grown vegetables, fruit and flowers (e.g. from "the brightest flower in my garden" to "an unusual shaped vegetable"), through to home cooking, crafts and even photography.
There's entertainment and a fun dog show for children of all ages.
Please call Julia Cloke on 01454 228676 for more information about the dog show. You can enter this on the day of the Show.
Try your luck on the raffle and tombola, test your skill at skittles and the coconut shy, or browse the stalls for crafts, books and toys.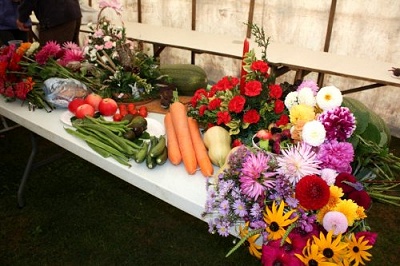 Then when you're in need of refreshment, head to the tea tent for delicious sandwiches, cakes and biscuits, enjoy a local brew in the beer tent, or treat yourself to an ice cream.
There's the chance to learn more about Cromhall and its various activities, with information stalls and a display of scouting activities.
The afternoon ends with cup presentations and an auction of flowers and produce.


Presentations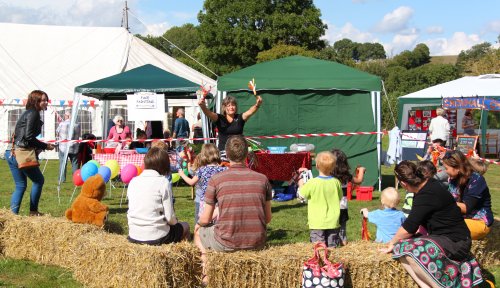 We present certificates and cups on the day to all winners, but all cups are retained by the Cromhall Horticultural Society to enable us to have them engraved.
Cups are presented at our Annual General Meeting which is usually held in October at Cromhall Village Hall.
All winners are personally notified once the date of AGM and Presentation is confirmed.