Cromhall Flower Show
The village of Cromhall holds a Flower Show and Village Fayre on the first Saturday of September at 2pm on the St Andrew's School field.
In 2019 this will be Saturday 7th September.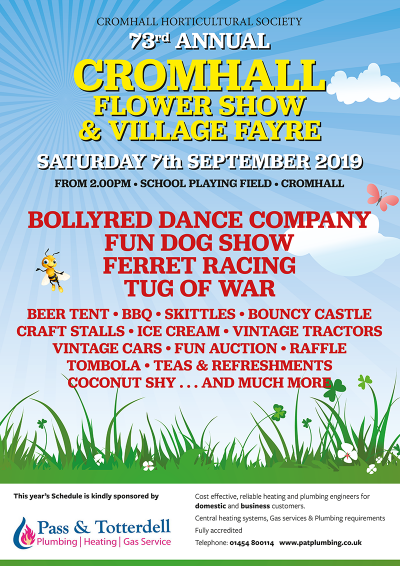 Cromhall Flower Show & Village Fayre 2019
A wonderful day out at a traditional outdoor Gloucestershire Village Show – come and join the fun.
The 73rd Cromhall Flower Show & Village Fayre is taking place from 2pm- 6pm on the 7th of September 2019 at St Andrew's School Field, Cromhall in South Gloucestershire.
This year's entertainment includes BollyRed Dance Company, Katharine Lady Berkeley's Jazz Band, a Fun Dog Show, Mr Brown Pig Woodland Puppet Show and Ferret Racing. A range of competitions and activities for all ages will be ongoing on the day with Welly Wanging, Bouncy Castle, Tug of War, real Archery, Coconut Shy, Skittles and a Football Shot Speed Challenge. There will also be a display of vintage cars, tractors and a steam engine.
There will be a large selection of local stalls selling their wares from jewellery to local honey!
The Show Tent is expecting another bumper year of over 600 exhibits of diverse entries, from home cooking, flowers & veg, a new Scarecrow category through to a real mix of homecrafts.
The Beer Tent, Tea Tent and BBQ will be serving refreshment and food throughout the afternoon with plenty of seating provided.


Can you lend a hand?
We are looking for people to lend a hand at this year's Cromhall Flower Show & Village Fayre on the 7th of September from 2pm to 6pm.
We only need an hour of your time so you can still have plenty of time to enjoy the show and it's a great way of meeting more people in the village.
We need help to run our own stalls which includes the skittles, coconut shy, bouncy castle, ice cream, beer tent, tombola and raffle tickets.
If you can spare an hour on the day, we would really appreciate it.
Please contact Helen Clifton on 01454 361 or email or alternatively there is a sheet in Cromhall Shop where you can add your name.


If you are interested in booking a stall at the Show, or donating a prize for our Raffle or Auction, please contact Pete Banks by email: or phone 01454 292 066, or call the Show Secretary Lisa Willmott on 01454 294968.
The stallholders application form and terms & conditions are available for download below.


Useful Downloads for 2019
Click the links below to download each document and print off your own copy:
About the Show
Flower Show and Village Fayre is an open show, so entries are always welcome from neighbouring villages and further afield.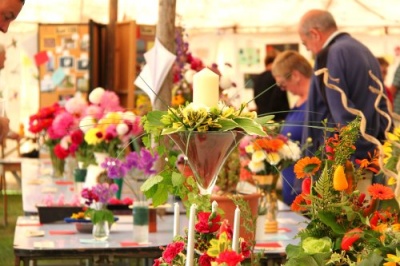 There's a category for everyone, including home grown vegetables, fruit and flowers (e.g. from "the brightest flower in my garden" to "an unusual shaped vegetable"), through to home cooking, crafts and even photography.
There's entertainment and a fun dog show for children of all ages.
Please call Julia Cloke on 01454 228676 for more information about the dog show. You can enter this on the day of the Show.
Try your luck on the raffle and tombola, test your skill at skittles and the coconut shy, or browse the stalls for crafts, books and toys.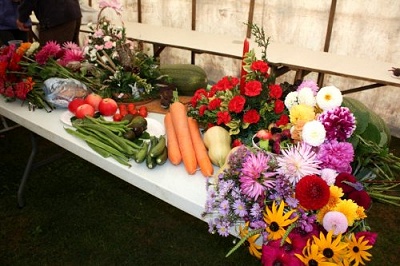 Then when you're in need of refreshment, head to the tea tent for delicious sandwiches, cakes and biscuits, enjoy a local brew in the beer tent, or treat yourself to an ice cream.
There's the chance to learn more about Cromhall and its various activities, with information stalls and a display of scouting activities.
The afternoon ends with cup presentations and an auction of flowers and produce.


Presentations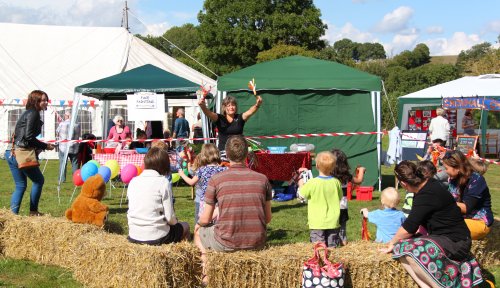 We present certificates and cups on the day to all winners, but all cups are retained by the Cromhall Horticultural Society to enable us to have them engraved.
Cups are presented at our Annual General Meeting which is usually held in October at Cromhall Village Hall.
All winners are personally notified once the date of AGM and Presentation is confirmed.