Cromhall Chapel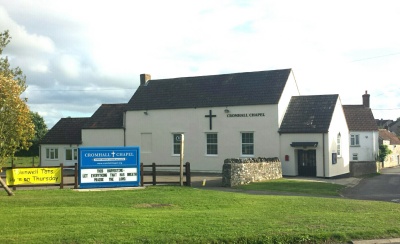 Coronavirus Update
The plan is for the chapel to re-open around the end of March 2021. Please check website for updates.
Despite this, we are still a church community worshipping the Lord. Though we may not be able to meet together in person, we can still worship our Lord in spirit and truth. We will still be having a weekly recorded message that will be posted every Sunday. We will also be posting a short mid-week reflection. Please visit www.cromhallchapel.org.
Cromhall Crafters will not be meeting for the foreseeable future due to the corona virus outbreak.
Townwell Tots will not be on for the foreseeable future due to the corona virus outbreak.


Welcome to Cromhall Chapel
Cromhall Chapel is a friendly fellowship, offering sound biblical teaching and where we seek to demonstrate the effect of Christ in our everyday lives, both individually and as a church.


Outgoing Pastoral Elder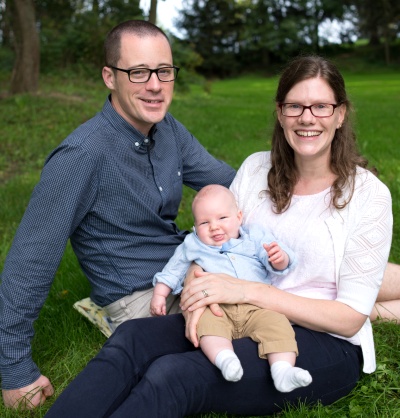 Pastoral Opening - We are currently looking for a new pastoral elder to carry on the ministry from our previous pastor who has now returned to Canada.
Pastor Chris and Rebekah served at Cromhall Chapel from January 2015 to August 2019.
With great mutual reluctance they returned to Canada because of Visa considerations.
Along with their son Digory, they are there embarking on a new journey with the Lord as Chris takes up the pastorate of Markdale Baptist Church.
Chris is also teaching Church History at Toronto Baptist Seminary.


How to contact Cromhall Chapel
For more information about Cromhall Chapel, please visit our website at www.cromhallchapel.org.
You can also contact Gordon James (Elder) on or telephone 01452 728 562.


Sunday Services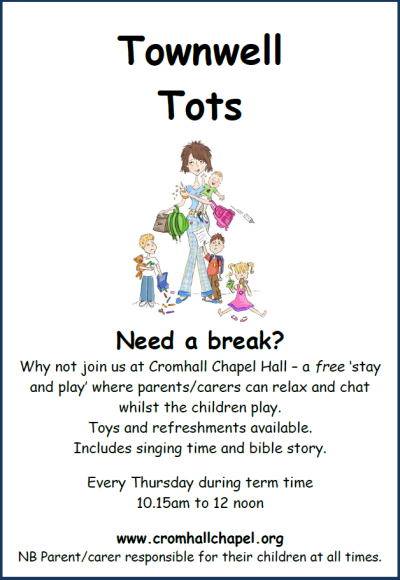 10.30am: Morning Worship and Children's Sunday Club
6.30pm: Evening Worship
Other Regular Events
Each Wednesday evening: house groups, meetings at chapel or area Bible study.
Cromhall Crafters on the second Tuesday of each month 7.00pm-9.00pm. Come and join a group of ladies for an evening of craft, and a chat over a cuppa. Bring your own craft or art work.
Townwell Tots is on every Thursday morning 10.15am to 12.00 noon during term times in the chapel hall. This is a free stay and play where children can enjoy playing with a wide range of toys while parents and carers chat over a coffee and homemade cake. We include a time of singing and a Bible story.
Men's Breakfasts happen bi-monthly on a Saturday at 9.00am. Enjoy a hearty cooked breakfast followed by an interesting talk.
Ladies Breakfasts happen bi-monthly on a Saturday at 9.30am. Enjoy a delicious cooked breakfast with fruit and pastries as well followed by a talk.
See www.cromhallchapel.org or the events calendar for dates of the next breakfast.
Click here to view a list of upcoming speakers and sermons.
Missed a sermon? Want to listen again? Click here to download past sermons.


About Cromhall Chapel
Cromhall Chapel is situated on the B4058 road between Iron Acton and Wotton-under-Edge, Gloucestershire, in the rural village of Cromhall.
The chapel was opened in 1819 and came into existence as a result of the preaching of God's word by Reverend Rowland Hill.
Today we thank God for a thriving and enthusiastic group of Christians whose aim is to welcome all into our fellowship.
We seek to hold a range of activities that will embrace all age groups, always endeavouring to place Christ at the centre of these events.
Cromhall Chapel is involved with a wide range of mission and social activities both in the UK and abroad.
There is a prayer box on the outside wall of the Chapel. If anyone has a concern they would like our small prayer group to pray for, please do drop us a line.
A warm welcome awaits you at all our meetings and for more details of our current activities please see the events calendar.