Cromhall Chapel
Next event
Thursday 19th July 2018
10.15am: Townwell Tots
Cromhall Chapel
A stay and play session for pre-school children and their carers. Enjoy coffee and cake while the little ones enjoy playing with our great selection of toys. We end with a time of singing and a Bible story. This will be the last session until September.

---
Welcome to Cromhall Chapel
Cromhall Chapel is a friendly fellowship, offering sound biblical teaching and where we seek to demonstrate the effect of Christ in our everyday lives, both individually and as a church.


How to contact Cromhall Chapel
For more information about Cromhall Chapel, please visit our website at www.cromhallchapel.org.
You can also contact Gordon James (Elder) on or telephone 01452 728 562.


Sunday Services
10.30am: Morning Worship and Children's Sunday Club
6.30pm: Evening Worship
Other Regular Meetings
Each Wednesday evening: house groups, meetings at chapel or area Bible study.

Click here to view a list of upcoming speakers and sermons.
Missed a sermon? Want to listen again? Click here to download past sermons.


Meet Pastor Chris
In January 2015, Cromhall Chapel was pleased to announce the appointment of Rev. Christopher W Crocker as their Pastor.
Pastor Chris and his wife Rebekah came from Canada and now live here in Cromhall.
As well as studying for his doctorate at Bristol University, Pastor Chris is a fourth generation bee-keeper.
Pastor Chris' email is .
Click here to read his blog.


About Cromhall Chapel
Cromhall Chapel is situated on the B4058 road between Iron Acton and Wotton-under-Edge, Gloucestershire, in the rural village of Cromhall.
The chapel was opened in 1819 and came into existence as a result of the preaching of God's word by Reverend Rowland Hill.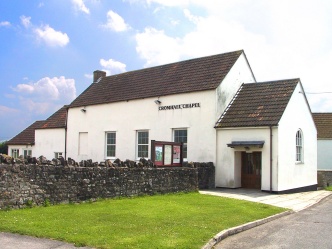 Today we thank God for a thriving and enthusiastic group of Christians whose aim is to welcome all into our fellowship.
We seek to hold a range of activities that will embrace all age groups, always endeavouring to place Christ at the centre of these events.
Cromhall Chapel is involved with the Transform Europe Now evangelism project.
There is now a prayer box on the outside wall of the Chapel. If anyone has a concern they would like our small prayer group to pray for, please do drop us a line.
A warm welcome awaits you at all our meetings and for more details of our current activities please see the events calendar.






Forthcoming events
Thursday 19th July 2018
Saturday 21st July 2018
Sunday 22nd July 2018
Wednesday 25th July 2018
Sunday 29th July 2018
Wednesday 3rd October 2018