History of Cromhall village shop
Tat3 – Shopping in Cromhall within living memory
On Feb 11th 2009, a very cold but lovely sunny afternoon, twenty Cromhall senior citizens met in Cromhall Village hall for afternoon tea. A lovely selection of sandwiches and cakes were enjoyed, together with numerous cups of tea.
It was good to meet up with people after the recent severe weather that kept us indoors. We spent much of the time remembering Cromhall in times gone past, especially the many shops that were once in the village and the people who ran them.
Memories were stirred and since then I have been given further interesting details on the subject.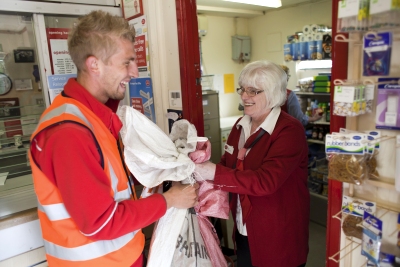 Did you know that the Post Office was once at Heathend and then moved to 1 Longcross, where it was run by Ernie Sansum? In the early seventies it moved to Townwell where it remained until 1991.
Prior to this, the shop in Townwell had been a general grocery store run many years ago by Miss Sheil and Miss Dealey. Memories of visiting the shop included the sugar in its blue bags and taking your empty golden syrup tin to be refilled!
There were other general grocery stores catering for people in other hamlets of the village: Mr & Mrs Walkley ran one at Heathend and another was to be found in Bibstone in the house now known as Bibstone Vean.
This was run by Miss Pratt, or Aunt Annice as she was known. She had acquired the shop during the 1st World War with the intention of it passing to her son William when he returned home. Sadly he was killed in the war and Aunt Annice continued to run the shop herself.
She stocked, amongst other things, knitting wools and rolls of material including blue and white striped fabric to make aprons. In those days shops stayed open until around 9pm.
One customer remembered was Charley Curtis who came from the Quarry to buy cigarettes for up to eight men at a time. He kept the money for each purchase in separate pockets. As he came up the hill he would shout 'Shop' to warn Aunt Annice of his arrival.
Mrs Cole, who lived three doors away in a little cottage, was a dressmaker.
Many people delivered goods direct to doors in those days. Mr Pick delivered milk in churns, helped by his daughter Freda, and it was sold by the jugful.
In later years Mr Bignell of Heathend delivered milk, orange juice and kiddies' sweets in his blue van and Mrs Bignell, helped by Mrs Hobbs, continued to sell these items from her back kitchen throughout the day, attracting school children on their way home.
Milk was also available direct from farms. In later years milk was delivered by Mr Bell of Charfield.
During the war meat came from Mr Cook, the butcher from Frampton Cotterell. During petrol rationing, the mid-week deliveries came by the local carrier, Wyatt, and they were delivered to certain houses from where they were collected. Mr Honeybourne, a Wickwar butcher, also delivered meat, as did Mr Bartlett and Mr Sweet from Thornbury.
The other essential, bread, was baked by Mr Richmond in Wickwar and delivered around Cromhall by Mr Gulwell with a horse and cart. Mr Forrest was also a local baker.
Maurice Pullin of Heathend, and his father, delivered newspapers daily.
With no electricity in the village, oil was delivered to homes for lighting and cooking. Mr Matthews from Chipping Sodbury was the first Oil man remembered and then Clive from Winterbourne. They delivered oil, batteries for radios, hardware items and drapery. A man from Weatherhead drapery shop in Thornbury (now Wildings) also called round.
In Bibstone there was a bicycle repair shop run by Stanley Drew living in what is now called The Old Smithy. He was a blacksmith and made and fitted the rims on the cart wheels. At the side of his house was a building where nails were made.
Ivy Cottage was a hairdressers during the seventies, run first by Mrs Caldecott and later by Miss Brown. Just across the road from this was the garage in the hands of Fred Wicks.
In a room of his house was held a weekly surgery where a doctor from Wotton under Edge came to see his Cromhall patients. After this the surgery was held for a time in Townwell Shop, the Village Hall and in Mrs Ranger's cottage in Bibstone.
Many readers may be able to add to these memories. We would be delighted to hear from you at 5Alive, 01454 294200 or
Article reproduced by kind permission of Ann Greenhalgh.
How the Village Shop & Post Office came to be
When Cromhall's original shop and post office closed in 1992, a small group of volunteers surveyed every household to find out how villagers felt about its loss.
Most people missed the amenity very much, especially older folk, children and those without transport. They did want a shop, but the most obvious result of the survey was the real need for a Post Office and a place to meet and chat.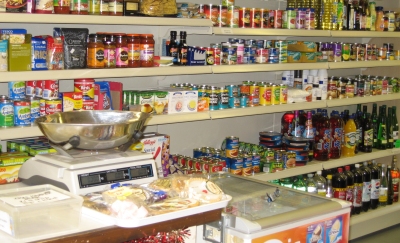 A public meeting was held, a steering group formed, and the idea of starting a community shop began. With the help of ViRSA (Village Retail Services Association), then in its infancy, the group set up a Village Shop Association with £10 membership.
Buying the old shop premises would have been too expensive, and there were no other suitable buildings in the village, so the group's only option was a portable building on an old allotment site. This piece of land belonged to the District Council, which took some persuading that a Portakabin could look attractive and would not be a permanent option.
Eventually, they granted the group two years on this site. Considering they had to clear the topsoil and put in mains drainage, water and electricity, they did wonder whether it was going to be worth all the effort.
To raise the start-up funds of £14,000, the group sold bonds worth £50 each to villagers, received donations from local businesses and held fundraising events. The Parish Council supplied a loan to buy the initial stock, as there were very few grants available then.
There were many setbacks during the two and a half years it took to open the shop, and it seemed at times the group would never succeed. The shop began to trade in 1995 and is open from 8.30am to 5pm Monday to Friday and until 11.30am on Saturdays. A dedicated, jolly team of volunteers, aged between 14 and 83 runs it; the shop has rarely closed due to lack of help.
When the two years were up, the group applied for an extension of the lease and were thrilled to be granted another six years. in 2003 extension of the lease was granted for a further 6 years.
Crucial to the success of this type of venture is the enthusiasm and dedication of a small handful of villagers. All too often village shops and post offices are not appreciated until they have to close, for whatever reason.
Considering the extensive range of goods on offer, the competitive prices and the friendly atmosphere in Cromhall Shop, volunteers often ask themselves why more people don't use it. For the continued success of the Shop and Post Office in Cromhall, it is imperative that more villagers recognise the importance of that age old slogan..."USE IT OR LOSE IT!"
Finally, we are always looking for more help in the shop. A couple of hours a week from anyone who feels they could spare the time, would be extremely helpful in order to keep the shop open for the hours it does at present.
See also: current information on the village shop and Post Office.