Cromhall village shop
Next event
Friday 28th August 2020
11am: Cromhall 100 Club August Draw
Cromhall village shop
The next draw will be in Cromhall Village Shop at 11am on Friday 28th August.
Grateful thanks to everyone who supports the ongoing maintenance of St Andrew's Parish Church by subscribing to our 100 Club.
If you would like a number, please contact Mandy on 01454 294186 or by email below.
It only costs £10 to buy a number for a year, and that will give you 14 chances to win £50, £30, £20 or £10 in our 6 draws throughout the year. The draws are made at 11am in Cromhall Village Shop on the last Friday in February, May, August and November, with two specials draws before Christmas and Easter when one fortunate person can win £50.

cromhall.com/cromhall/st-andrews-...
Email:

---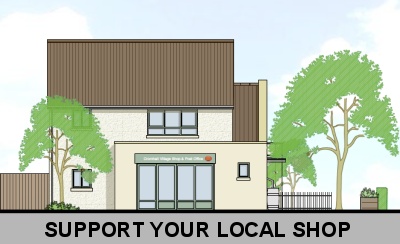 Coronavirus & the Village Shop and Post Office
A message from Chairman Linda Richards:
"For the last 3 months you, our customers, have been extremely patient waiting outside the shop to be served, well, now you can come in.
In order to maintain social distancing we are limiting the number of customers in the shop at any one time to 3 and that includes the PO customers.
There will be hand sanitiser and antibacterial spray by the door for customers use.
On Friday July 24th it will be a requirement to have a face covering when entering a retail establishment. It would be greatly appreciated by the volunteers if you could adhere to this new ruling for their safety and yours.
The shop & PO hours will remain unchanged for the foreseeable future, this is not ideal but our Volunteers are not getting any younger and due to self isolation we don't have quite so many to call on.
I would like to take this opportunity to thank all those people who kindly volunteered to help in the shop, it certainly helped us and enabled the shop to keep going.


Village Shop Opening hours
| | Temporary hours |
| --- | --- |
| Monday-Friday | 9.30am-12.30pm |
| Saturday | 9.30am-12noon |
| Sunday | Closed |
Post Office Opening hours
| | Temporary hours from 6th July |
| --- | --- |
| Monday | 9.30am-12.30pm |
| Tuesday | 9.30am-12pm |
| Wednesday | Closed |
| Thursday | 9.30-12.30pm |
| Friday | 9.30-12.30pm |
| Saturday | Closed |
| Sunday | Closed |
A village shop that provides all the basics, plus a few surprises...
How to Contact your Village Shop
Cromhall Village Shop and Post Office
1 Lygon Court
Townwell
Cromhall
Wotton Under Edge
GL12 8AQ
Tel: 01454 299335 (Shop)
Tel: 01454 299262 (Post Office)
Linda Richards, Chairman of the Village Shop Association, can be contacted by email at: or by phone on 01454 294468.
The AGM, held in October, is open to all residents.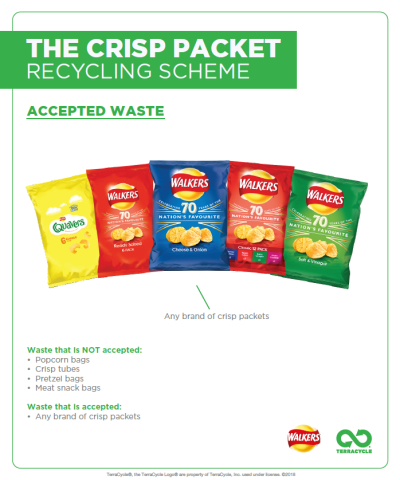 Recycle Your Crisp Packets
St Andrew's School PTFA have joined TerraCycle's crisp packet recycling scheme to reduce waste and raise funds for school.
They'll accept all types of crisp packet and multipack outer packaging.
Click here to find out more about the scheme.
There is also a collection box in the shop so the whole village can get involved.
Every year countless pieces of crisp packets end up in landfill sites across the UK.
The Crisp Packet Recycling Scheme allows us to recycle your crisp packets and prevent them from ending up in landfill.
Not only are you helping the environment, but the waste you recycle with us also helps to fund our school.


Happy to Help
We may just be your local shop, but perhaps we can do a little more to help you.
The fruit and vegetable delivery from Bath Wholesale now comes in every Wednesday. Veg orders can be placed by Monday 11.30am for delivery to the shop on Wednesday.
Fresh bread from Cottage Bakery is delivered on Wednesday and Friday morning, and from Hobbs Bakery every Saturday.
Fresh milk is delivered from Cotteswold Dairies every Monday, Wednesday and Friday. They can also supply goats milk, cream, sour cream, and the most delicious crème fraiche.
Locally made cakes are available most days from Di Meredith.
We also sell bacon, ham, bacon joints, sausages, individual pies and sausage rolls from a local butcher in Frocester, with deliveries every Monday and Thursday. They can also deliver fresh meat and poultry to order. Fresh meat orders can be placed by Monday 11.30am for delivery to the shop on Thursday.
Local eggs are always available and supplied by Naite Farm.
We aim to support local suppliers within a 25 mile radius of Cromhall village.
But how can we help you?
We are happy to take orders which can be sourced from any of our local suppliers, regular or as a one off.
If you would like to know the latest day to be included in the next order, please speak to a member of staff in the shop or telephone on 01454 299335 and we will be happy to help.


Volunteers needed...
Are you new to the village and want to get to know people? Are you aged 16+ and looking for voluntary work for your D.of E award or your C.V.? Have you a bit of time on your hands because your children are in nursery or you've retired?
Why not join our team of helpers!
We're a friendly bunch, no previous experience is required and our till does NOT bite – in fact it's very easy to use!
You can either do occasional slots to cover for people who are ill or on holiday, or you can do a regular weekly or even fortnightly slot. New helpers are given training and always work with an experienced person.
It's a great way to get to know people and what is oing on in the village. If you would like to help, just call in at the shop or e-mail .


Plastic, the Environment and your Village Shop
There has been an awful lot in the press and on the television recently about plastic and its impact on the environment. The major supermarkets have been very slow in trying to discourage their customers love of plastic.
Your local Village shop has decided to take the lead and from May we will be reducing our reliance on plastic in the shop.
The majority of our bread bags will be wholly biodegradable, while we have stock of plastic fruit & veg bags we will offer both paper or plastic until our plastic stock runs out, we will also offer paper carrier bags at a cost of 5p.
Our loose bird seed/nuts are very popular and if you would prefer it not bagged then please bring your own container and we will fill it for you.
Even though we are a small shop it is still a challenge to locate suppliers of biodegradable bags and liners at a reasonable cost, hopefully we have done this. Once we are satisfied with the quality we may be able to sell the biodegradable bags in the shop but that is something for the future, just keep reading our articles.
Please support your local Village shop & Post Office and when you do come along to see what we have to offer remember to bring your own bag and do your bit for the environment.


SHOPPING = PROFIT = DONATION
The ability to turn water into wine is restricted to one person, however did you know that Cromhall residents can turn their shopping in the village shop into donations to local organisations, let me explain how.
When the Shop & Post Office first opened it was in a secondhand portacabin that the Committee realised had a limited life and would need replacing at some point, this is not now the case.
When we moved into our new premises it was decided that any profit the shop made would be given back to the community through donations to village good causes benefiting both young and old.
Our profits are very modest but a small donation can make a big difference.
Our last financial year was the first time we have been able to do this and we donated £500 to St Andrew's School for their new garden which benefited all the pupils.
The Village Shop Committee are happy to consider requests from other not for profit organisations in Cromhall.
Remember SHOPPING = PROFIT = DONATION
Our ability to donate to anybody is down to you, come and see what we have to offer.


Bring and Buy Books
Next time you're ready to donate your unwanted books, please bring them in to Cromhall Shop for others to enjoy.
While you're there, and pick up something new to read - it's £1 for a hardback, and 50p for a paperback.
Any books that remain unsold will be taken to the Lions Bookshop in Thornbury.


Stock up at the Village Shop
As a not-for-profit organisation, we sell a large range of products at competitive prices, and accept debit and credit cards.
Home-made cakes delivered every Friday
Fresh fruit and vegetables
Veg boxes to order: seasonal produce freshly delivered from a local supplier to your door each Thursday. Last orders Wednesday before 1pm for delivery next day.
Free range eggs
Fresh meat to order from Frocester Fayre
Bacon, cheese and cooked meats
Cottage Bakeries bread delivered Wednesday and Friday
Hobbs House bread (order by Thursday for delivery on Saturday morning)
Milk from Cotteswold Dairies - always fresh, always available
Local honey (in season) and apple juice
Chocolates, sweets and ice cream
Wine, beer and spirits
Farm-sourced frozen ready meals from Frocester Fayre
Large selection of groceries
Sandwiches and snacks
Also:
Wide range of household goods
Daily newspapers to order
Stationery
Greetings cards
Prescription collection service from the Wotton surgeries
On-line banking
Services at the Post Office
Our Post Office offers PAYPAL, which caters for most electric key top-ups, all mobile E top-up vouchers and mobile phone cards. This service will eventually be extended to include more products.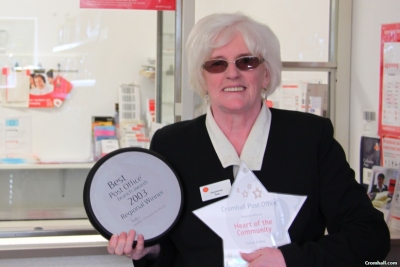 You can buy One4all gift vouchers, which make ideal presents. The One4all vouchers can be spent in thousands of UK shops and services, with new locations added every day - pick up a leaflet at the Post Office.
The Government has also awarded a contract to the Post Office to run a card account for people to receive benefit, state pensions and tax credit payments.
Did you know you have a "hole in the wall" in the village? You can access cash at the post office if you have accounts at: RBS, Halifax, Lloyds, Barclays, Santander, Natt and Co-op.
If you are thinking of taking a holiday, the Post Office Holiday Insurance scheme gives excellent cover at competitive rates.
Remember you can pay your Council Tax through the Post Office.


Cromhall 100 Club
Quarterly draws take place in Cromhall Shop at 11am on the last working day of November, February, May and August. Prizes are: 1st - £30, 2nd - £20, 3rd - £10, plus £50 draws at Christmas and Easter.
If numbers requested exceed 100, the value of the draws will be increased.
Click here to download an application form
Standing order mandate forms are available from Cromhall Shop or Mandy Bird by email: or on 01454 294186.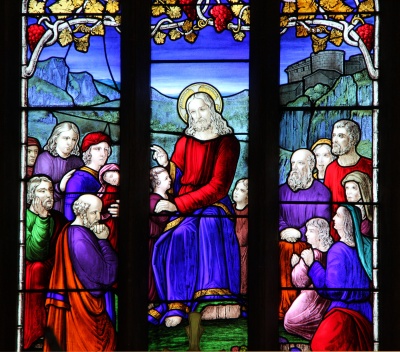 St. Andrew's Church window, Cromhall.
Mandy Bird writes: "Ten pounds is not a huge sum of money but when we all join together in the 100 club, it becomes a significant fundraiser for the care and upkeep of St Andrew's Church, a valuable historic building and a place of worship in Cromhall since at least the 13th century.
We want to have our church well maintained and heated for all the community to use. Even if you do not worship there regularly, the church is there for you for special services, baptisms, weddings and funerals.
Maintaining our lovely historic church is a continuing challenge for our small congregation and I would ask you all to please remember to renew your membership of the 100 club or buy a number if you haven't done so in the past. You could be lucky and have a little windfall!
There will be a list in the village shop where you can renew your membership or simply pop £10 in an envelope with your name and telephone number and drop it into the village shop. Alternatively, drop it through my letterbox at Ashleigh, Cowship Lane, Cromhall.
Grateful thanks to everyone who has supported St Andrew's so far. Good luck to you all!"


Cromhall 100 Club Winners 2018-19
December 2018: £50 MR DICK BRYANT (No.90)
February 2019: £30 Ms FRANCES PIPER (No.60), £20 Ms FE GRAY (No.66), £10 MR STEVE ASTON (No.33)
Easter 2019: £50 MRS PAT MILLS (No.49)
May 2019: £30 MRS MAY BROWN (No.46), £20 MRS SUE CROSTHWAITE (No.62), £10 MRS ALISON GAMBLE (No.58)
August 2019: £30 BERNICE POTTER (No.86), £20 JENNIFER OLDERSHAW £20 (No.96), £10 ANN GREENHALGH (No.40)
November 2019: £30 MRS ROSIE WILLSHAW (No.43), £20 DEBBIE ROSE (No.8), £10 MRS LINDA RICHARDS (No.44)
Congratulations to all the winners and thank you very much for supporting St Andrew's Church and churchyard.


Become a member of the Community Shop
As a member of the shop Association, you are entitled to vote at the AGM and take advantage of the special offers and money-off vouchers that are periodically offered to members only.
If you would like to support the shop by joining the Association, please complete the details below and send this with your membership fee of £10 to the Chairman, c/o Cromhall Shop.
Click here to download a membership form


---
Read about how the shop started, and about older shops that used to exist in Cromhall.






Forthcoming events
Friday 28th August 2020