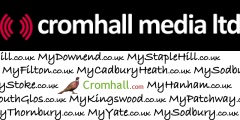 We run a series of websites South Gloucestershire and Wotton Under Edge packed with up-to-date information about what's happening in the local area.
Our portfolio includes MyThornbury, MyYate, MySodbury, MyKingswood and many more.
Our websites provide local businesses with an effective platform to advertising products and services as well as events.
Web: www.cromhallmedia.co.uk
E-mail: