Snowdrop walk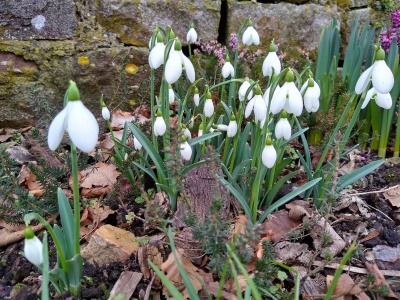 A lovely walk at any time of year, but spectacular when the snowdrops are out.
by Steve Aston
Go for a walk in February or March, and you're in for a treat: the snowdrops are in their full glory at this time of year.
The walk between Sodam Mill and the Lodge House at the top end of Tortworth Lake is awash with snowdrops, the banks of the stream, the field edges and down into the woods. Many of you are probably local and know it well, but if like me you are new to the area or just visiting, then you should don your boots, and check it out. You will not be disappointed.
The walk takes me about an hour and a half but very much depends on how quickly or slowly you walk, and how many times you stop to watch the wildlife - maybe a nuthatch, a tree creeper, hares or a deer if you're quiet and lucky.
This route and many others can be found using an Ordnance Survey Map Explorer 167.
See this page for a map; the route forms a circuit around Wicks'/Butchers Hill.


The walk
From the the main road at Greenline Tanks walk down the lane towards Abbotside.
At about 100yds on your right is a stile, go over and walk to your left and diagonally across the next field
In the corner of the field is another stile and some steps, these will take you to the mill (the steps are steep and can be slippery)
From the Mill cross the bridge, through or over the gate and then it's easy walking up the field towards the cottage at the top
At the top the path turns right along the wall and back down the hill over a stile and into the valley bottom, follow the path along the edge of the wood to a gate.
Through the gate and along the track to the Lodge House.
Turn right and up the hill to Parkend and Knapp lane, you can turn right along to the end and you're back where you started
Alternatively keep going up to the top of the hill and turn right along the road to the junction, turn right will take you back to main road and where you started or a left turn will take you to the local hostelry The Royal Oak offering rest and refreshment.