Cromhall Parish Council
Next event
Wednesday 11th April 2018
7.30pm: Cromhall Parish Council meeting
Cromhall Village Hall
---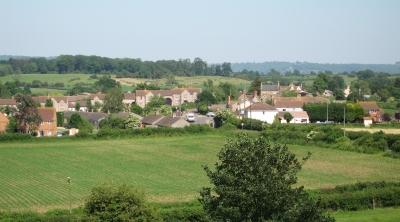 How to contact your Parish Council
For all enquiries, please contact the Clerk, Daphne Dunning.
You can email her at or write to 25 Parkfield Rank, Pucklechurch BS16 9NR.


Latest News:
Cromhall Parish Council Newsletter January 2018
Click here to read the newsletter.


South Gloucestershire Local Plan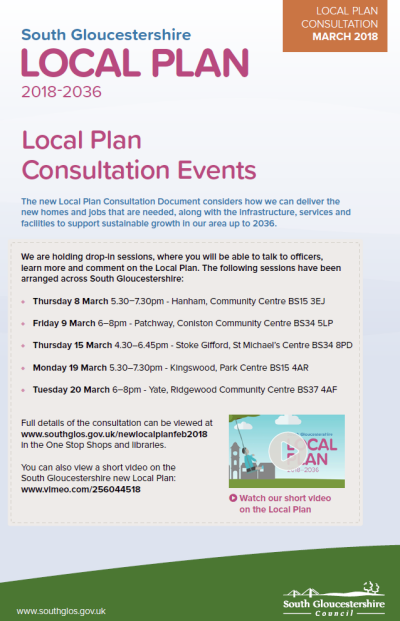 The Local Plan is currently out to consultation until 30th April, and Cromhall will be investigated as one of the areas to be assessed if it is capable of accepting further development.
See the poster for dates of drop in sessions for you to find out more and respond to the consultation.
Click here for full details.


Cromhall Parish Council Accounts
The Parish Council's accounts and other financial documents are available to view here.


South Gloucestershire Council Contacts
Click here to download a leaflet containing useful information and contacts from South Gloucestershire Council.


Broadband
Although the Cowship Lane cabinet has now been upgraded to fibre, there are still a large number of properties in the Parish that do not have access to satisfactory broadband.
To assist the Cromhall Parish Council in raising this with South Gloucestershire Council, a survey is being conducted of actual internet speeds. If you have not yet been asked for information and are willing to provide it online, then please go to the broadband survey page.



About Cromhall Parish Council
The Parish Council meets on the second Wednesday of each month, except in December, in the Village Hall at 7.30pm.
Anyone is welcome to attend meetings, but may only speak when invited to do so.
Anyone can propose items for the agenda by informing the clerk of that proposal at least eight days before the meeting so that due notice can be given.
December is the month when Council sets the budget for the following year and is not a public meeting.
If any group/organisation would like to apply for a grant, please make your intention known before December so it can be considered in the budget.
Councillors
Details of your parish councillors can be found here [PDF].



Cromhall Poor's Allotment Charity
This Charity was set up in 1973 with the objective being to relieve, either generally or individually, persons resident in the Parish of Cromhall who are in conditions of need, hardship or distress.
The charity owns land at Heathend, which gives it its income through annual rents, and is administered by four trustees all resident within Cromhall. The trustees are appointed by the Parish Council every four years.
The trustees can help (and would welcome applications from) anyone genuinely in need of assistance and residents can apply for this help directly or through a third party, at any time through the year.
These days "those in need" are not so easy to identify, so for many years now, the trustees have distributed the income at Christmas time, in the form of a gift voucher to be used in the village shop. (Years ago, coal, electricity stamps and other gifts were distributed.)
Recipients of the gift are Cromhall residents over the age of retirement and who have lived in the village for five years or more. Where a couple live together, only one gift is given per household.
The trustees consider who should receive the gift at its autumn meeting, but it is very difficult to know who is eligible each year. If you have never received the gift in the past and feel you should, please make the trustees aware of this as soon as possible.
Lastly, the trustees are always mindful of their original purpose, and so if there is anyone in the parish, of any age, in real need or hardship please do approach the charity for help. Any such request will be considered sympathetically and in confidence by the trustees.
If you would like further information please contact any of the trustees or Secreatary Sue Wray on or 294387, or leave a note for Sue in Cromhall Village Shop.


Footpath Warden
If you have any queries about footpaths in and around Cromhall, please direct them to our Footpath Warden Steve Aston. You can phone Steve on 01454 299969 or email him on



Forthcoming events
Wednesday 11th April 2018
Wednesday 6th June 2018