Welcome
Welcome to Cromhall.com - your online guide to events and organisations in and around Cromhall.
Browse the event calendar to see what's happening, keep up to date with village organisations and discover our local history.
If you have an event or organisation you'd like to promote, get in touch and we'll pop it on the site.
To find out more about publicising your business to local customers, including free directory listings, check out our advertising options.
And for a round-up of what's new this month, read the newsletter.
What's on
Saturday 13th February 2016
Sunday 14th February 2016
Monday 15th February 2016
News
Be a Young Entrepreneur
A small group of independent business owners in South Gloucestershire have decided to encourage young entrepreneurs with their business idea or venture, offering them the opportunity of being assessed and recognised by experienced business people in the area. There are money prizes to be won, as well as recognition and support. Click below to find out more...

Register for Sort It Centres
South Gloucestershire residents who want to use the Sort It recycling centres must now register their vehicle to access the sites.
You don't need to sign up straight away, just make sure you register at least 24 hours before your next visit. You can sign up at any time of year and you only need to do it once, unless you change your address or vehicle. To register your vehicle, click below, call 01454 868000 or visit a One Stop Shop.

Read the latest 5Alive
5Alive is the community newsletter for Falfield, Tortworth, Tytherington, Rockhampton and Cromhall. Click below to read the February 2016 edition...

News feeds
Latest items from BBC News:
• Assad vows to retake all of Syria
• Pope in historic Russia church talks
• PM: UK will not 'retreat from world'
• Alzheimer's preventative drug hope
• Eight girls hurt in crash near school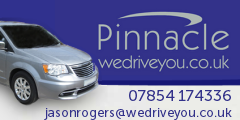 ---
See also: events in Thornbury, Yate and Chipping Sodbury.

---