Welcome
Welcome to Cromhall.com - your online guide to events and organisations in and around Cromhall.
Browse the event calendar to see what's happening, keep up to date with village organisations and discover our local history.
If you have an event or organisation you'd like to promote, get in touch and we'll pop it on the site.
To find out more about publicising your business to local customers, including free directory listings, check out our advertising options.
For a round-up of what's on in August, read the newsletter.
What's on
Friday 22nd August 2014
Sunday 24th August 2014
Monday 25th August 2014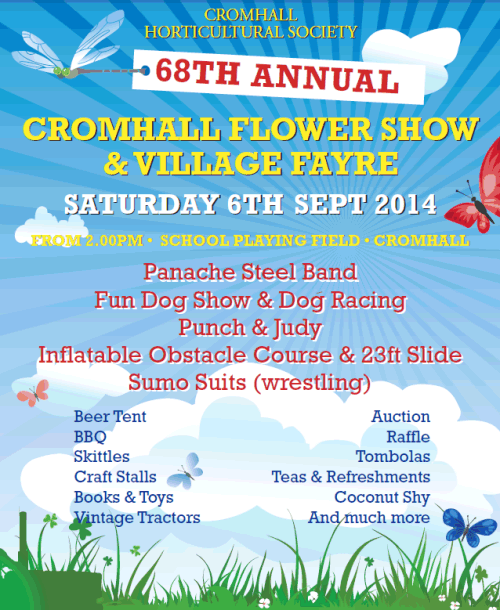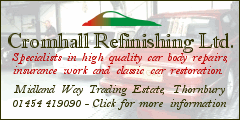 News
Enter the Flower Show Raffle
There'll be a raffle at Cromhall Flower Show this year, with prizes from a family pass to Adam Henson's Cotswold Farm Park to a three course meal for two at Tortworth Court Four Pillars Hotel. Click below to see the list of prizes..

Could you help a lonely older person?
Age UK South Gloucestershire has a waiting list of over 60 older people who are feeling lonely and need a befriending volunteer to visit them once a week for a chat. What they really hope for is a regular chat and a cuppa with a familiar face, which in some cases is the only social contact they have each week. Giving one hour a week can make a big difference to someone's life - for more information call 01454 411707 or click below.

Email:

Could you adopt or foster a child?
Barnardo's, one of the UK's leading children's charities, are recruiting adoptive parents and foster carers from all backgrounds in South Gloucestershire. They are particularly looking for people to foster teenagers. You won't be alone as they offer 24 hour support and regular supervision, a generous fostering allowance, professional fee plus excellent training.
So if you want to change a child's life for the better, click below get in touch.

News feeds
Latest items from BBC News:
• Foley killers 'wanted $132m ransom'
• Hunt on for 'UK' beheading suspect
• Doctors may face 'tougher sanctions'
• US Ebola patients out of hospital
• Rights campaigner Helen Bamber dies


---
See also: events in Thornbury, Yate and Chipping Sodbury.

---