Welcome
Welcome to Cromhall.com - your online guide to events and organisations in Cromhall.
Browse the event calendar to see what's happening in and around the village, keep up to date with village organisations and find out about our local history.
If you have an event or organisation you'd like to promote, get in touch and we'll pop it on the site.
To find out more about publicising your business to local customers, including free directory listings, check out our advertising options.
What's on
Friday 18th April 2014
Sunday 20th April 2014
News
Read the latest 5Alive
5Alive is the community newsletter for Falfield, Tortworth, Tytherington, Rockhampton and Cromhall. Click below to read the April 2014 edition...

Rogue Traders in South Glos
We're being warned to be extra vigilant when dealing with unexpected callers at the front door. Trading Standards are aware of rogue traders recently offering services such as driveway resurfacing/sealing/cleaning and tree and hedge maintenance. Damage from winter storms, such as fallen fence panels or trees, may give rogue traders a plausible excuse to knock on your door.
If you think you or someone you know has fallen victim, please contact Trading Standards through the Citizens Advice consumer helpline on 08454 040506.

Be on TV!
BBC One are looking for people who live in interesting homes in Cromhall and the surrounding areas and would be happy to try a home swap holiday for a new TV series.
Do you live in an interesting home you'd be happy to swap with someone elsewhere in the UK for a short break? If so, please email below with your contact details.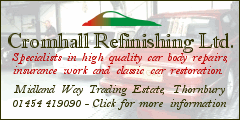 News feeds
Latest items from BBC News:
• Korea ship: Third officer 'had helm'
• Labour hires Obama poll guru Axelrod
• Author Gabriel Garcia Marquez dies
• Obama cautious over Ukraine deal
• Teachers' unions meet amid disputes


---
See also: events in Thornbury, Yate and Chipping Sodbury.

---