Welcome
Welcome to Cromhall.com - your online guide to events and organisations in and around Cromhall.
Browse the event calendar to see what's happening, keep up to date with village organisations and discover our local history.
If you have an event or organisation you'd like to promote, get in touch and we'll pop it on the site.
To find out more about publicising your business to local customers, including free directory listings, check out our advertising options.
And for a round-up of what's new this month, read the newsletter.
What's on
Friday 24th October 2014
Sunday 26th October 2014
Monday 27th October 2014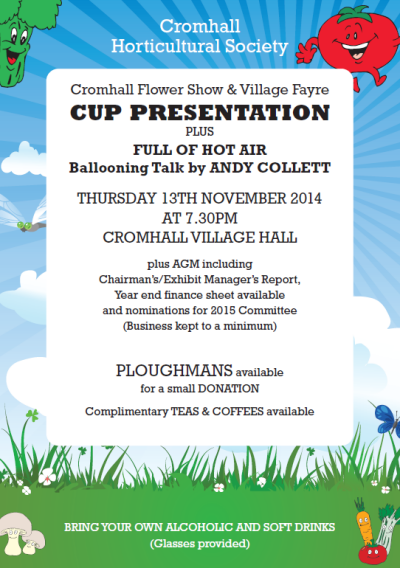 News
Community grant for older people
Bluebird Care has decided to give away its first ever Community Grant – a sum of money that could benefit any local group in South Gloucestershire working with older people. The care provider is making available £250, and the group that can best demonstrate a need for additional support will be allocated the funds.
For more details and to receive an application form contact Bluebird Care on 01454 323624 or email below.

Email:

Unsure? Close the Door
Age UK South Gloucestershire have been made aware of an incident where a bogus caller, claiming to a representative, cold called an older person offering to undertake some home decorating and repairs and asked for money to buy materials.
Age UK South Gloucestershire want to remind older people across the area that they never make unsolicited cold calls and never ask for any money for their advice.

Take the Stoptober challenge
During October, smokers are being encouraged to take part in the 28-day stop smoking challenge - Stoptober. Smokefree South Gloucestershire offers free advice and support to quit smoking throughout the area, and for Stoptober, there will be extra sessions every week. Click below for more...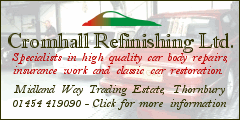 News feeds
Latest items from BBC News:
• PM: I won't meet £1.7bn EU demand
• Asda faces mass action on equal pay
• 'Millions of Ebola vaccines' in 2015
• Russia 'helped Yanukovych to flee'
• Egypt: 29 killed in Sinai attacks


---
See also: events in Thornbury, Yate and Chipping Sodbury.

---