Cromhall Parish Council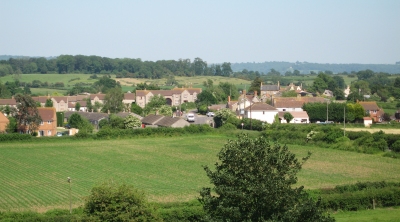 How to contact your Parish Council
For all enquiries, please contact the Clerk, Daphne Dunning.
You can email her at or write to 25 Parkfield Rank, Pucklechurch BS16 9NR.


Latest News:
Cromhall Parish Council Monthly Report for July 2017
Key headlines from Cromhall Parish Council meeting held on 12th July which may be of interest to parishioners.
Vacancy for a parish councillor
Cromhall parish council has a vacancy for a councillor. Have you considered becoming a Parish Councillor? It may be easier and more rewarding than you think. But 'what is involved' you may ask?
Funded by the precept raised as part of your council tax, the parish council takes responsibility for a range of local matters and makes all kinds of decisions on issues that affects the local community.  The most common are planning matters (council is a statutory consultee), crime prevention, bus shelters, managing play areas and recreational spaces and campaigning for better facilities. Councillors have an opportunity to make a real difference to their community, at a small cost in time and effort.
All sorts of people become councillors with a broad spread of ages and a wide variety of backgrounds and occupations. What drives people is being able to influence decisions for the benefit of others and seeing their community change for the better, as a result of decisions you, the parish councillor, have helped make. As a councillor, you simply need to bring integrity and a common-sense approach and be willing to look for viable and pragmatic solutions. Being a councillor is not going to take over your life and in return there is the immense satisfaction of putting something back into the community. If you are interested please contact an existing councillor or email the clerk . You will be very welcome.
Consultations
South Gloucestershire Council are consulting on their Supported Bus Service from 12th June to 3rd September 2017. Information, including a link to the online questionnaire, can be found on the consultation website here.
South Gloucestershire Council are consulting on their Health & Wellbeing Strategy 2017-2020 from 12th June 2017 to 21st August 2017. Information, including the draft strategy and the consultation questionnaire, can be found on the consultation website here.
Grants
Cromhall Parish Council has a small annual budget to provide financial support for community organisations working for the benefit of Cromhall parishioners, with the intention of improving the range of services and activities in the parish. It is able to award grants using the Local Government Act 1972 s137 which gives the "Power of local authorities to incur expenditure for certain purposes not otherwise authorised".
The council has agreed to introduce a slightly different process for awarding grants this year so many groups can benefit and will be advertising this in the next few months.
Speed Limit & Vehicle speeds through the Village
Speeding traffic through Cromhall remains an issue and the parish council is currently looking at a scheme to install roadside gates at each entrance to the village. The idea is to highlight to drivers that they are entering a village and hopefully this will encourage them to modify their driving and speed. The council is working with South Gloucestershire Council to investigate the options available.
Mike Line - Chairman Cromhall Parish Council


Cromhall Parish Council Accounts
The Parish Council's accounts and other financial documents are available to view here.


South Gloucestershire Council Contacts
Click here to download a leaflet containing useful information and contacts from South Gloucestershire Council.


Broadband
Although the Cowship Lane cabinet has now been upgraded to fibre, there are still a large number of properties in the Parish that do not have access to satisfactory broadband.
To assist the Cromhall Parish Council in raising this with South Gloucestershire Council, a survey is being conducted of actual internet speeds. If you have not yet been asked for information and are willing to provide it online, then please go to the broadband survey page.



About Cromhall Parish Council
The Parish Council meets on the second Wednesday of each month, except in December, in the Village Hall at 7.30pm.
Anyone is welcome to attend meetings, but may only speak when invited to do so.
Anyone can propose items for the agenda by informing the clerk of that proposal at least eight days before the meeting so that due notice can be given.
December is the month when Council sets the budget for the following year and is not a public meeting.
If any group/organisation would like to apply for a grant, please make your intention known before December so it can be considered in the budget.
Councillors
Details of your parish councillors can be found here [PDF].



Cromhall Poor's Allotment Charity
This Charity was set up in 1973 with the objective being to relieve, either generally or individually, persons resident in the Parish of Cromhall who are in conditions of need, hardship or distress.
The charity owns land at Heathend, which gives it its income through annual rents, and is administered by four trustees all resident within Cromhall. The trustees are appointed by the Parish Council every four years.
The trustees can help (and would welcome applications from) anyone genuinely in need of assistance and residents can apply for this help directly or through a third party, at any time through the year.
These days "those in need" are not so easy to identify, so for many years now, the trustees have distributed the income at Christmas time, in the form of a gift voucher to be used in the village shop. (Years ago, coal, electricity stamps and other gifts were distributed.)
Recipients of the gift are Cromhall residents over the age of retirement and who have lived in the village for five years or more. Where a couple live together, only one gift is given per household.
The trustees consider who should receive the gift at its autumn meeting, but it is very difficult to know who is eligible each year. If you have never received the gift in the past and feel you should, please make the trustees aware of this as soon as possible.
Lastly, the trustees are always mindful of their original purpose, and so if there is anyone in the parish, of any age, in real need or hardship please do approach the charity for help. Any such request will be considered sympathetically and in confidence by the trustees.
If you would like further information please contact any of the trustees or Secreatary Sue Wray on or 294387, or leave a note for Sue in Cromhall Village Shop.


Footpath Warden
If you have any queries about footpaths in and around Cromhall, please direct them to our Footpath Warden Steve Aston. You can phone Steve on 01454 299969 or email him on