Cromhall village shop
Next event
Friday 24th November 2017
11am: Cromhall 100 Club November Draw
Cromhall village shop
The next draw of the St Andrew's Parish Church 100 Club, for prizes of £30, £20 and £10.
Congratulations to the lucky winners and thank you to members.
We still have numbers available, so if you would like to join, just put a £10 pound note or cheque made out to Cromhall PCC in an envelope, and either pop it through Mandy Bird's letterbox at Ashleigh, Cowship Lane or leave it for Mandy in Cromhall Village Shop.
St Andrew's Church is very grateful for your support and you will have 14 chances of winning your money back throughout the year. Good luck!

www.cromhall.com/community/church...

---
How to Contact your Village Shop
Cromhall Village Shop and Post Office
1 Lygon Court
Townwell
Cromhall
Wotton Under Edge
GL12 8AQ
Tel: 01454 299262
Patrick Martin, Chairman of the Village Shop Association, can be contacted by email at:
The AGM, held in October, is open to all residents.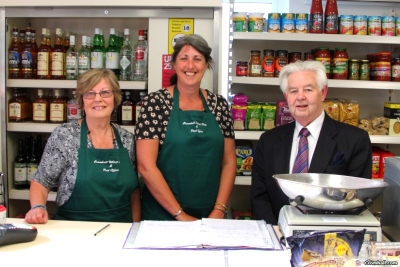 Voted Best Rural Post Office in the South West, 2003
Voted Central and West Regional "Heart of the Community" Post Office, 2009


Post Office Opening hours
| | Morning | Afternoon |
| --- | --- | --- |
| Monday | 8.30am-1pm | 2pm-5pm |
| Tuesday | 8.30am-12.15pm | Closed |
| Wednesday | Closed | Closed |
| Thursday | 8.30am-1pm | Closed |
| Friday | 8.30am-1pm | Closed |
| Saturday | Closed | Closed |
| Sunday | Closed | Closed |
Village Shop Opening hours
| | Morning | Afternoon |
| --- | --- | --- |
| Monday | 8.30am-1pm | 2pm-5pm |
| Tuesday | 8.30am-1pm | 2pm-5pm |
| Wednesday | 8.30am-1pm | 2pm-5pm |
| Thursday | 8.30am-1pm | 2pm-5pm |
| Friday | 8.30am-1pm | 2pm-5pm |
| Saturday | 8.30-11.30am | Closed |
| Sunday | Closed | Closed |
Chairman's Report
Patrick Martin has agreed to continue as Chair of the Village Shop Association.
At the 2016 AGM, Patrick welcomed Neal Willshaw, Rosie's husband, to the shop committee, which now has seven members.
He also thanked Sue Wray who has offered to become minutes secretary for the forthcoming year.
Click here to read the Chairman's report.


Stock up at the Village Shop
As a not-for-profit organisation, we sell a large range of products at competitive prices, and accept debit and credit cards.
Home-made cakes delivered every Wednesday and Friday
Fresh fruit and vegetables
Veg boxes to order: seasonal produce freshly delivered from a local supplier to your door each Thursday. Last orders Wednesday before 1pm for delivery next day.
Free range eggs
Fresh meat to order
Bacon, cheese and cooked meats
Hobbs House bread (order by Thursday for delivery on Saturday morning)
Milk
Local honey and apple juice
Chocolates, sweets and ice cream
Wine, beer and spirits
Farm-sourced frozen ready meals
Large selection of groceries
Sandwiches and snacks
Also:
Wide range of household goods
Daily newspapers
Stationery
Cards and gifts
Prescription collection service from the Wotton surgeries
On-line banking
Services at the Post Office
Our Post Office offers PAYPAL, which caters for most electric key top-ups, all mobile E top-up vouchers and mobile phone cards. This service will eventually be extended to include more products.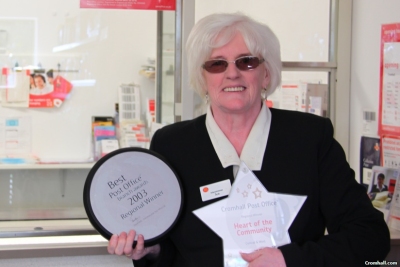 You can buy One4all gift vouchers, which make ideal presents. The One4all vouchers can be spent in thousands of UK shops and services, with new locations added every day - pick up a leaflet at the Post Office.
The Government has also awarded a contract to the Post Office to run a card account for people to receive benefit, state pensions and tax credit payments.
Did you know you have a "hole in the wall" in the village? You can access cash at the post office if you have accounts at: RBS, Halifax, Lloyds, Barclays, Santander, Natt and Co-op.
If you are thinking of taking a holiday, the Post Office Holiday Insurance scheme gives excellent cover at competitive rates.
Remember you can pay your Council Tax through the Post Office.


Cromhall 100 Club
Ten pounds is not a huge sum of money but when we all join together in the 100 club, it becomes a significant fundraiser for the care and upkeep of St Andrew's Church, a valuable historic building and a place of worship in Cromhall since at least the 13th century.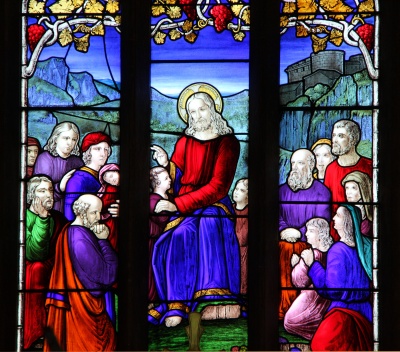 St. Andrew's Church window, Cromhall.
Even if you do not worship there regularly, the church is there for you for special services, Baptisms, Marriages and Funerals.
Maintaining our lovely historic church is a continuing challenge for our small congregation and I would ask you all to please remember to renew your membership of the 100 club or buy a number if you haven't done so in the past. You could be lucky and have a little windfall!
We want to have our church well maintained and heated for all the community to use and you may have noticed the scaffolding around the church, which has been necessary for ongoing roofing repairs.
There will be a list in the village shop where you can renew your membership or simply pop £10 in an envelope with your name and telephone number and drop it into the village shop. Alternatively, drop it through Mandy Bird's letterbox at Ashleigh, Cowship Lane, Cromhall.
Grateful thanks to everyone who has supported St Andrew's so far. Good luck to you all!
Entry costs £10 per number for a year.
Quarterly draws take place in Cromhall Shop at 11am on the last working day of November, February, May and August.
Prizes are: 1st - £30, 2nd - £20, 3rd - £10, plus £50 draws at Christmas and Easter.
If numbers requested exceed 100, the value of the draws will be increased.
Click here to download an application form
Standing order mandate forms are available from Cromhall Shop or Mandy Bird by email: or on 01454 294186.


Volunteers needed...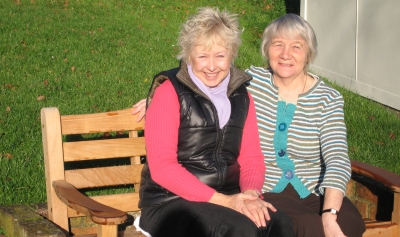 Could you do your bit to help keep the shop alive? Helpers and volunteers are always needed, and greatly appreciated.
Extra help is appreciated on a regular or occasional basis. Some volunteers just pop into the shop, look at the rota and see if they are able to fill any empty space during the week.
If you are willing to fill a regular slot and are not available some weeks, cover can be arranged. New helpers are given training and always work with an experienced person.
It is a great way to get to know people and what is going on in the village. If you would like to help, call in the shop and speak to a supervisor.


Become a member of the Community Shop
As a member of the shop Association, you are entitled to vote at the AGM and take advantage of the special offers and money-off vouchers that are periodically offered to members only.
If you would like to support the shop by joining the Association, please complete the details below and send this with your membership fee of £10 to the Chairman, c/o Cromhall Shop.
Click here to download a membership form


---
Read about how the shop started, and about older shops that used to exist in Cromhall.






Forthcoming events
Friday 24th November 2017
Friday 22nd December 2017