Cromhall Flower Show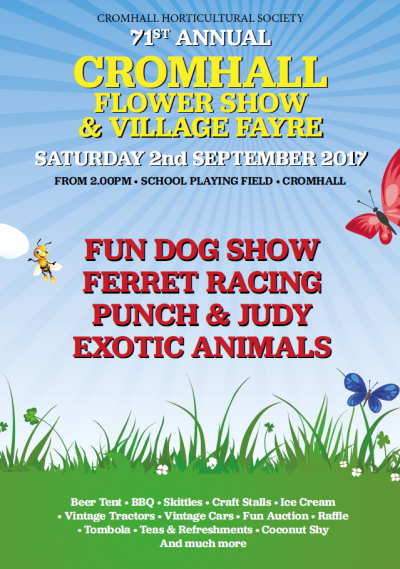 The village of Cromhall holds a Flower Show and Village Fayre on the first Saturday of September at 2pm on the St Andrew's School field.
Useful Downloads for 2017
Click the links below to download each document and print off your own copy:
Extra copies of the schedule are available in the run up to the show at Cromhall Village Shop, along with entry forms and outlines for the children's colouring classes.


Chairman's Update
It's not too long now until our 71st Cromhall Flower Show & Village Fayre - so a reminder for your diary - Saturday the 2nd of September at 2pm.
Schedules have been delivered to the local area but if you haven't received a copy, they are available in Cromhall Village Shop or you can download here.
Take a look at all of the categories, along with our hints, tips and rule reminders and enter as many as you like as there really is something for everyone.
Plenty of entertainment to enjoy this year including our Fun Dog Show, the Dodington Parish Band, Punch & Judy, Animal Antics and Ferrett Racing.
And new additions include Wellie Wanging and a Tug of War competition, so we are looking for teams or make one up on the day. To find out more or to enter your team please email .
Refreshments and food will be available throughout the day with our Beer Tent, Tea Tent, BBQ and Ice Cream Stall.
I look forward to seeing you on the 2nd of September.
Peter Banks, Chairman, Cromhall Flower Show & Village Fayre (CHS)


About the Show
Cromhall's Flower Show is an open show, so entries are always welcome from neighbouring villages and further afield.
There's a category for everyone, including home grown vegetables, fruit and flowers (e.g. from "the brightest flower in my garden" to "an unusual shaped vegetable"), through to home cooking, crafts and even photography.
There's entertainment and a fun dog show for children of all ages.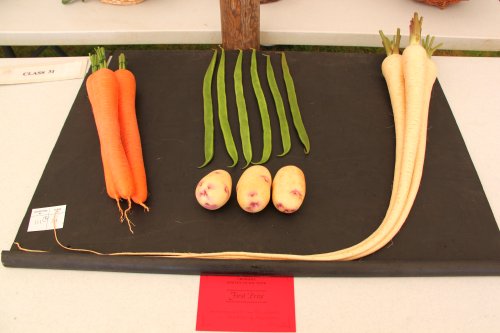 Please call Julia Cloke on 01454 228676 for more information about the dog show. You can enter this on the day of the Show.
Try your luck on the raffle and tombola, test your skill at skittles and the coconut shy, or browse the stalls for crafts, books and toys.
Then when you're in need of refreshment, head to the tea tent for delicious sandwiches, cakes and biscuits, enjoy a local brew in the beer tent, or treat yourself to an ice cream.
There's the chance to learn more about Cromhall and its various activities, with information stalls and a display of scouting activities.
The afternoon ends with cup presentations and an auction of flowers and produce.
For more information, please ring the Show Secretary Lisa Willmott on (01454) 294968.


Cup Presentation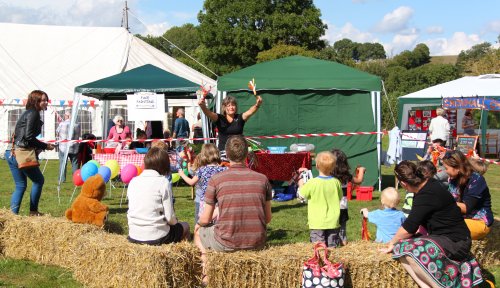 We present certificates and cups on the day to all winners, but all cups are retained by the Cromhall Horticultural Society to enable us to have them engraved.
Cups are presented at our Annual General Meeting which is usually held in October at Cromhall Village Hall.
All winners are personally notified once the date of AGM and Presentation is confirmed.