Cromhall Diving Centre
The Dive Centre Will Sadly Not Re-open
"Dear Friends,
For the quarry and our clients, 2020 has been a bad year with the floods at the start of the year followed by the tragedy of Covid-19 with lockdown preventing access to outdoor facilities.
Sadly, while we were preparing to re-open, we have received some more bad news.
We have received formal notice that means that the quarry will close with immediate effect and will not re-open.
We are not aware of any future plans for the facility.
Over the past 14 Years, you have been wonderful people to be associated with and it has always been a great pleasure to see you enjoying the site and we will miss you all.
Please, continue to dive and swim safely wherever you choose and we hope to see you on the surface at some time or another.
Kind regards and best wishes.
Simon & Maggie."


How to contact the diving centre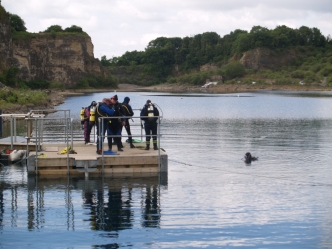 Cromhall Quarry
Cromhall
South Gloucestershire
GL12 8AA
Tel: 07901 832 862
Email:
You'll find directions and a zoomable map at the bottom of this page.


About the site
Cromhall Quarry has 9.5 acres of water and is only 1.5 miles from J14 of the M5.
The slightly undulating rock bottom gives an ideal training depth of 17 metres. It slopes upwards to the former haul road entry, giving a shallow beach area allowing easy access and egress for entry-level dive trainees and rescue training.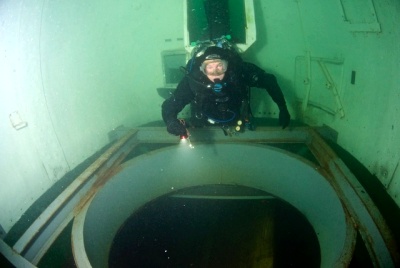 At the north end of the quarry is a pontoon floating in 15 metres of water that has been specifically designed for ease of use by divers.
The former limestone quarry has filled naturally, with underwater visibility during April 2012 of up to 5-6 metres, which is expected to rise to 8-10 metres during the Summer.
Water quality when sampled at the pontoon the 30th April 2018 complied with the Private Water Supplies (England) Regulations 2016.
The site is unique - it is home to EU-protected Great Crested Newts (click here to find out more about the newts), and is a Site of Special Scientific Interest containing, among other fossils, the Cromhall dinosaur.


Opening & Qualifications
We welcome qualified and trainee divers for diving every Saturday, Sunday or Bank Holiday Mondays and on Thursday evenings between May and September. There is no need to pre-book entry to the site.
Opening times: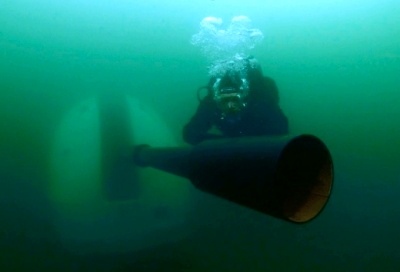 Winter 9am to 3pm, everyone to clear site by 4pm.
Summer 9am to 4pm, divers to clear site by 5pm
Open Water Swimming is on Thursday Evenings between 5.30pm and 8pm, or 30 mins before sunset, whichever is earlier.
Entry Fees for Divers:
Weekends/Bank Holidays £16.00
Thursday Evenings £10.00
Snorkelling/free diving £6.00
Entry Fees for Swimmers:
The site is open to all qualified divers and those undertaking a recognized training course, and a small classroom is available for hire if required for training purposes.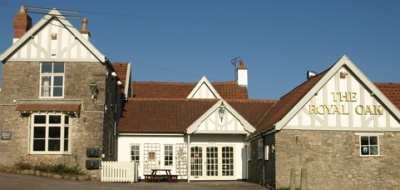 When you're hungry...
Teas, coffees, cakes and snacks are available at the Dive Centre.
If you're looking for something more substantial, Cromhall's nearby Royal Oak Pub offers drinks and hot meals.


Features
Current in-water features include: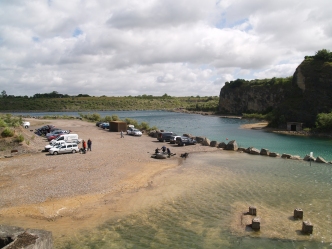 ex Royal Navy gun shield
two shipping containers used as training tables with the tops in approximately 7 and 10 metres of water
an aircraft cockpit
a 105mph racing catamaran
several cabin cruisers
a mine
a torpedo
two red phone boxes
the bouyancy gym
Explore the Gun Turret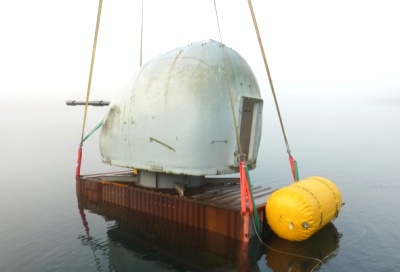 Cromhall Diving Centre has sunk an ex Royal Navy decommissioned Mk 8 4.5" Gun Shield (Turret) - pictured in the process of being submerged.
The fibreglass gun shields were fitted for weather protection on Frigates and Destroyers.
They have now been superseded with more angular gun shields to reduce radar signatures.
The decommissioned shield has been cleaned and sunk for divers to enter, with a dummy gun barrel!
The gun shield has joined shipping containers, a few phone boxes, a number of boats, and an aircraft cockpit.


Open Water Swimming
We welcome open water swimmers between 9am and 1pm on any Saturday, Sunday or Bank Holiday Mondays, and on Thursday evenings between 5.30pm and 8pm between mid-May and mid-September.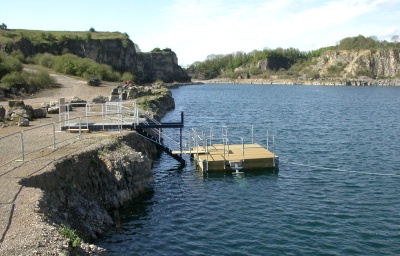 The site is open for swimming at all times of the year but it should be noted that the temperatures drop rapidly to approximately 4–5oC during December and do not rise appreciably until the end of March.
All swimmers shall at all times wear suitable thermal protection or if swimming without a suit then to use a Tow Float at all times.
Swimmers will be asked to read a copy of the site rules and will be asked to sign a disclaimer indicating that they understand the rules and restrictions of the diving centre on arrival. Swimming is strictly limited to within the boundaries of the marked course
The entrance fee for swimmers is £5.50 per session, the minimum age for open water swimming is 16 years. The surface water temperature on 18th May 2018 was 14°C.
To be kept informed of the current water temperature, please mail us at:


Nitrox/Trimix Continuous Blending
Cromhall Diving Centre use the LM-NT Continuous Process blending systems that supply pre-mixed low pressure O2/He to the compressor for direct filling of diving cylinders with Nitrox (max 40%) and Trimix.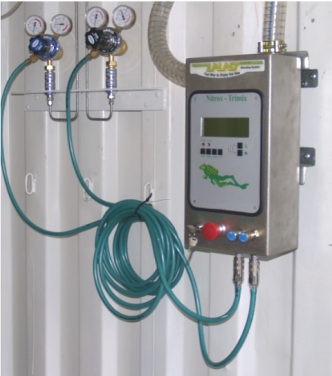 The diving cylinders do not need to be oxygen cleaned to fill with this process and the system eliminates the risks of partial pressure blending.
For sales and service contact the quarry or for more info visit: www.nitrox-trimix.com


Gas Filling
Double filtered Air is available to 232 bar, as well as Nitrox/Trimix & 100% O2.
With our continuous blending system we do not require your cylinders to be O2 clean for mixes to a maximum of 40% Nitrox.
Cylinders to be filled with mixes greater than 40% O2 are required to be O2 Clean.
We reserve the right to refuse to fill any cylinder that appears to be suspect in any matter, we shall refuse to fill any cylinder without a valid test marking.


Useful links
For diving equipment and training, please visit: www.seastyle.co.uk or www.bristolchanneldiving.co.uk.


How to Find Us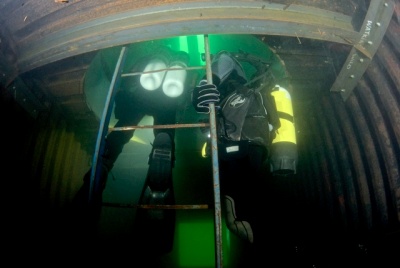 The easiest way to find us is from Junction 14 of the M5: take the B4059 towards Wotton-Under-Edge.
At the roundabout, turn right on the B4058 towards Cromhall, Rangeworthy and Iron Acton.
After about 1/4 mile, just past the Cromhall village sign, there are some workshops on the right hand side.
Turn into the entrance and follow the yellow signs through the coach and truck parks and along the lane that leads to the quarry bottom.