Local Thriller Novels competition

Win two novels by Bristol author Antony Curtis.
Last date for entries is Wednesday 31st May 2023.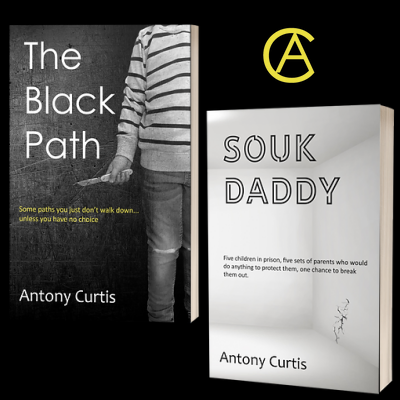 Treat yourself to two thrilling reads, thanks to Bristol born and bred author Antony Curtis.
For your chance to win copies of his gripping novels: 'The Black Path' and 'Souk Daddy', simply send us your details below and we'll enter you into the draw.
Antony Curtis launched his debut novel 'The Black Path' in July 2022. Set in Bristol, it follows Tom Hook, a former Royal Marine faced with making a decision that could ultimately ruin his family, career and the lives of those around him. This family thriller is based on Antony's own childhood experiences of growing up in Knowle West and Bristol readers have enjoyed the relatable aspects of the book.
Antony's second novel was released last December after dreaming the whole story, characters names, personalities and even the title. 'Souk Daddy' is a gripping thriller that follows the author's well-received debut novel 'The Black Path'.
Antony says, "The journey the characters took me on was intriguing, dramatic and a tale of love in its rawest form. The story recounts every parent's worst nightmare and tells a story that is a mixture of heartbreak and intense adventure. I hadn't intended to write another book so soon after the last novel, but it seems my subconscious had different ideas!"
Both books have received excellent reviews worldwide and Antony is currently working on his third novel and has numerous book ideas for the future!
Visit www.antony-curtis.com to read more...