Hot Chocolate Treat Box competition

This competition closed on Friday 30th July 2021.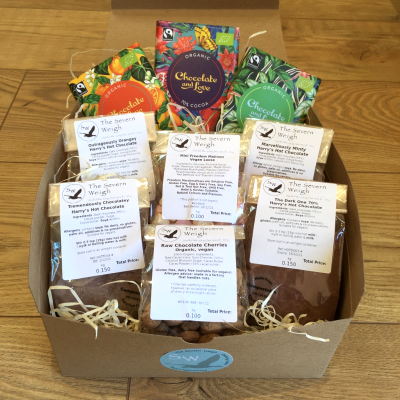 Now we're all being encouraged to reduce our use of plastics, here's your chance to win a selection of products to enjoy guilt-free!
To celebrate 'Plastic free July', zero-waste grocery store The Severn Weigh is offering one lucky winner a sustainable 'Hot Chocolate Treat Box', containing:
4 flavours of 150g of Artisan 'Harry's Hot Chocolate': Tremendously Chocolatey, The Dark One, Outrageously Orangey, Marvellously Minty
Freedom Mini Mallows 100g (gelatine free)
3 bars of Organic & Fair Trade 'Chocolate & Love': Orange, Mint & Pomegranate in home compostable wrapper
'Organic Raw Chocolate Co': Organic Chocolate Cherries 100g
The entire box contents is free from dairy, gluten and nuts (ingredients lists on labels).
It uses wholly sustainable packaging: recycled Kraft gift box; FSC wood wool; home compostable wood pulp cellophane bags; secured with natural raffia.
For your chance to win, simply send us your details using the form below, and we'll enter you into the draw.
The Severn Weigh offers organic loose whole foods, plastic free toiletries, personal and household items.
It's based at Oldbury Naite, Oldbury-on-Severn, near Thornbury, and offers both a click & collect and a local delivery service. Pop in anytime to refill your own containers or buy from the shelves.
To find out more, pop out to Oldbury Naite, Oldbury-on-Severn BS35 1RU, visit www.severnweigh.co.uk or www.facebook.com/SevernWeigh, email: hello@severnweigh.co.uk or call 01454 419475.



Sorry; we are no longer accepting entries for this competition.