Gourmade Ready Meal for Two competition

This competition closed on Wednesday 30th September 2020.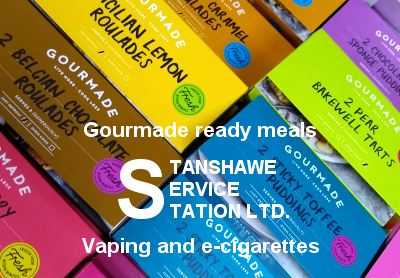 Here's your final opportunity to "Live More, Cook Less", thanks to the Gourmade range of delicious ready meals at Stanshawe Service Station's SPAR convenience store.
They're offering one last prize of a main dish, a side dish and a dessert - and each feeds two people.
For the chance to enjoy your gourmet dinner on the table in minutes, simply send us your details using the form below, and we'll enter you into the draw.
Gourmade ready meals - including vegetarian options - are made using quality ingredients and frozen from fresh within an hour of making, with no artificial nasties!
Stanshawe Service Station also have a wide range of food and drink, with beers, wines and spirits at reasonable prices, and food and drinks to take away.
Drinks include Fairtrade Smokin' Bean coffee in biodegradeable cups made from vegetable material: regular £2.40, large £2.70. FREE syrup shot, FREE extra shot of coffee... Use your loyalty card to buy 9, get the next one free.
For your protection in these difficult times, Stanshawe Service Station have safety screens at tills, a handwipe station, gloves on each pump island and taped areas for social distancing, while staff wear gloves and use sanitiser.
With Covid-19 in mind, you can use the Shell app to fill up on petrol without any contact at all, using the "Pay at Pump" feature within the app.
If you're not the lucky winner this time you can still enjoy Stanshawe Service Station's Gourmade ready meals. Visit: www.stanshawservicestation.co.uk to find out more, call in at Westerleigh Road, Yate BS37 4BG, email stanshawe_services @btconnect.com or telephone 01454 318962.
Current opening hours are Monday to Saturday 8am to 8pm, Sunday 10am to 6pm.



Sorry; we are no longer accepting entries for this competition.