Rumours competition

Win 4 tickets to Rumours.
Last date for entries is Friday 31st May 2019.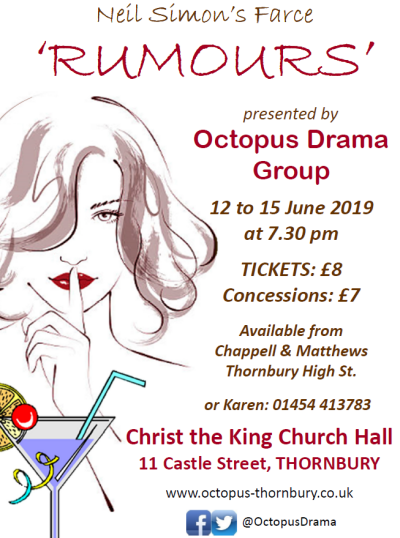 Here's your chance to win tickets to Octopus Drama Group's production of "Rumours", the hilarious comedy of couples by renowned playwright Neil Simon.
We have 4 tickets to give away for the opening performance on Wednesday 12th June, 7.30pm at Christ the King Church Hall.
For your chance to win, simply fill in your details below, and we'll enter you into the draw.
Ken and Chris have found their host Charley, a prominent Government official, in his bedroom, too dazed to speak, with a bullet wound in his ear lobe! Len and Claire arrive, themselves injured in a car crash, and are soon joined by Ernest and Cookie, Glenn and Cassie, each with their own problems.
A second, accidental, gunshot leaves Ken temporarily deaf, the police arrive and Len has to pretend he is Charley, concocting a touching and fantastic explanation...
Click here for more information about the performance.
If you're not lucky enough to win tickets this time, they're available to buy from Chappell & Matthews on Thornbury High Street or from Karen on 01454 413783.
Tickets are £8, £7 concessions, and performances are nightly at 7.30pm, 12th-15th June.
Visit octopus-thornbury.co.uk to find out more about Octopus Drama Group.