Hawkes House Funds competition

Win £50 to spend at Hawkes House.
Last date for entries is Thursday 31st January 2019.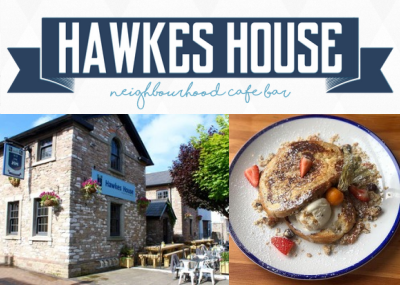 Here's a chance to treat yourself to fine fare or quality quenchers at Hawkes House.
Owners James and Simon are offering one lucky winner £50 in Hawkes House Funds to spend as you please in Thornbury's Neighbourhood Café Bar.
The House Funds can also be used at either of their other two sites in Tewkesbury or Nailsea if you fancy a day out!
For your chance to win, just send us your details using the form below, and we'll enter you into the draw.
Hawkes House is an independently owned & managed café bar in the heart of Thornbury. It's named after the famous 'Hawkesworth' family, who played a major role in Thornbury throughout the 17th Century and were connected with several taverns in town.
The relaxed, informal environment can be used for whatever you see fit… whether for a morning coffee, brunch meeting, ladies lunch or evening out with friends, you will feel at home. It's open 8.30am-11pm seven days a week, come rain or shine, flood or drought.
To find out more about Hawkes House, visit www.hawkeshouse.co.uk.