Robin Hood Pantomime competition

Win two tickets to Robin Hood.
Last date for entries is Monday 31st December 2018.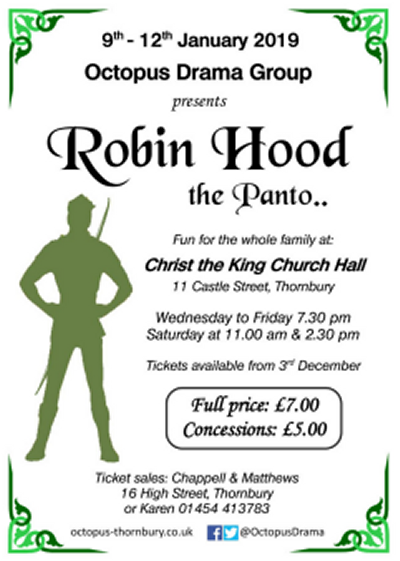 Here's your chance to join Robin Hood as he comes riding through the glen and onto the Octopus stage in January.
Written for Octopus by Peta Maurice, and directed by Adrian Dennis, this hilarious romp through Sherwood Forest is a real post-Christmas treat for all the family, and runs from 9th to 12th January 2018 at Christ The King Church Hall.
For your chance to win two tickets for the opening night on Wednesday 9th January, simply send us your details using the form below.
Along with his merry men and, of course, Friar Tuck (who has gone vegetarian with alarming consequences), he will continue his crusade to dethrone the wimpy Prince John and win the hand of the fair Maid Marion. Of course the wicked Sherriff of Nottingham will be there to thwart him, but who will prevail?
With his gang of supporters, including merry maids, Nursey, the poor villagers and a gang of very knowledgeable forest children, how can he fail to win the day? There is only one question remaining: 'Who is Gertie Applegirdle and what part does she have to play in this entertaining and lively plot?'
Click here for more information about the performance, and if you're not the lucky winner this time, you can still buy tickets from Chappell and Matthews, Thornbury High St, or call Karen on 01454 413783.