Tropic Skincare and Make-Up competition

Win £25 of Tropic products with advice on what to choose.
Last date for entries is Thursday 31st January 2019.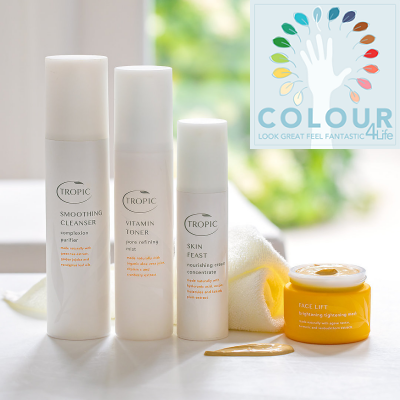 How would you like to make a positive change in 2019 by transforming your skin care and make-up with Charlene Moore from Colour4Life?
Charlene is offering one lucky winner Tropic Make Up and Skin Care products to the value of £25, with a consultation to work out the best products for you, either in person or by telephone.
For your chance to win, simply send us your details using the form below, and we'll enter you into the draw.
Tropic use only the richest, premium ingredients so they are effective on all skin types, even sensitive skin. Tropic believe in naturally effective ingredients, green science innovation and beauty with a conscience.
Certified by the Vegan Society and Cruelty Free International, Tropic products are not tested on animals. All make up and skin care is available to buy from Charlene's online shop.
To find out more about the services Charlene offers through Colour4Life, visit colour4life.co.uk, email: charlene@colour4life.co.uk or call 077 933 944 82.