Into The Woods competition

Win a pair of tickets to Into the Woods.
Last date for entries is Sunday 30th September 2018.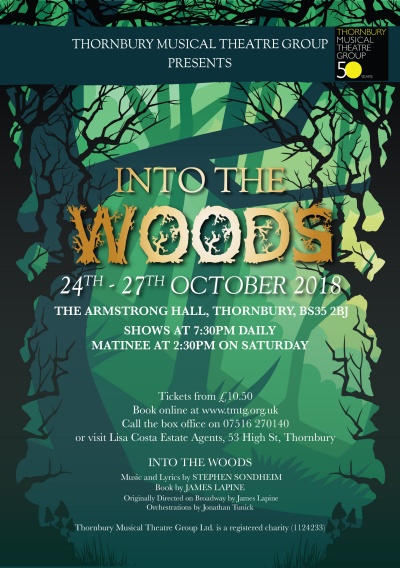 In this, its 50th Anniversary year, the Thornbury Musical Theatre Group are delighted to be performing the fairy tale based musical "Into the Woods", and you could win a pair of tickets!
It is a musical rarely seen on the amateur stage and something a little different for TMTG's audiences. Performances take place at the Armstrong Hall in Thornbury from Wednesday 24 to Saturday 27 October at 7.30 pm nightly, including a matinée on Saturday at 2.30 pm.
To enter the draw for a pair of tickets to the opening night on October 24th, simply send us your details using the form below.
Directed by Heather Collins, who has a wealth of experience directing for the group (previous shows including Beauty and the Beast, Crazy for You and The Wizard of Oz), the musical offers wonderful opportunities to TMTG members, with over 18 lead and ensemble roles, and they look forward to taking on Sondheim's complex melodies and lyrics and showing off another side to the group's talents.
Click here for more information about the performances, and if you're not the lucky winner this time, you can still book tickets through www.tmtg.org.uk.