Thornbury Carnival and Hamper competition

Win a family trip to Thornbury Carnival and enter a hamper draw.
Last date for entries is Saturday 30th June 2018.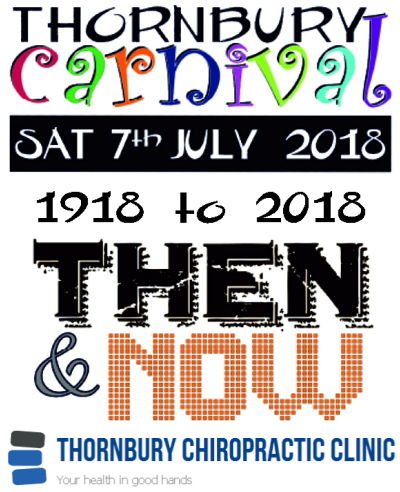 Here's your chance to win a free family ticket to the 2018 Thornbury Carnival and a hamper of feel-goodies from Thornbury Chiropractic Clinic.
The Carnival is back on July 7th with the theme "Then and Now", and we have a family ticket to give away for 2 adults and 3 children aged 11 or under.
To enter the draw, simply send us your details using the form below.
Thornbury Chiropractic are running a prize draw to win a hamper, and your entry here will give you automatic entry to that too. The prize includes a free 1/2 hour massage voucher, a neck pillow (retail price around £50), Mint Ease Soothing Cream, a Hot/Cold Gel pack, and chocolate!
Thornbury Carnival starts with a parade of bands, groups and costumed entertainers through the centre of Thornbury, and then flows into a country fair atmosphere on the Mundy Playing Fields with a fun fair, refreshments, stalls and entertainment.
For full details please visit www.mythornbury.co.uk/carnival.
Thornbury Chiropractic Clinic is celebrating its 20th anniversary this July. It set out to help local people with spinal-related conditions lead a more able and comfortable life and has become a centre for Complementary Holistic Medicine. They'll have a stall at the Carnival, and would love to see anyone who has attended the clinic, past or present - please pop by and say hello!
To find out more about the range of treatments available at Thornbury Chiropractic Clinic, visit www.thornburychiropractic.co.uk, email: info@thornburychiropractic.co.uk or call 01454 418259.
Thornbury Chiropractic Clinic - your health in good hands.