Peter Pan Pantomime competition

Win a pair of tickets to Peter Pan.
Last date for entries is Sunday 31st December 2017.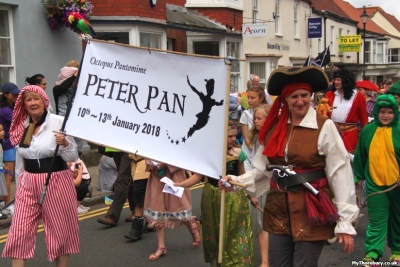 Panto season is just around the corner (Oh yes it is!) so here's your chance to fly to the magical Neverland at Octopus' production of J.M. Barrie's classic Peter Pan.
This pantomime version of Peter Pan, written by member Abi Baskervlle, will be performed from 10th to 13th January 2018 at Christ The King Church Hall.
For your chance to win a family ticket (two adults, two children) for the opening night on Wednesday 10th January, simply send us your details using the form below.
Come join Wendy, Michael and John as they are whisked away by Peter Pan to Neverland, where they meet pixies, Tigerlilly and even some lost visitors from Wonderland, all the while being pursued by the dreaded Captain Hook and his band of pirates.
Hook will stop at nothing until he gets his revenge on Peter Pan and has uncovered the secret treasure of Neverland. Who will win in the final confrontation between Peter Pan and Hook and what of the Crocodile and its relentless tick-tock tick-tock?
Be ready for comedy, adventure, romance and audience participation - the perfect treat for all the family.
Click here for more information about the performance, and if you're not the lucky winner this time, you can still book tickets through octopus-thornbury.co.uk.
Hook your tickets now - the croc is ticking!